GAINESVILLE, Fla. — The University of Florida Athletic Association has approved their budget for the 2017-2018 at $218 million on Monday—up $6 million from last financial year.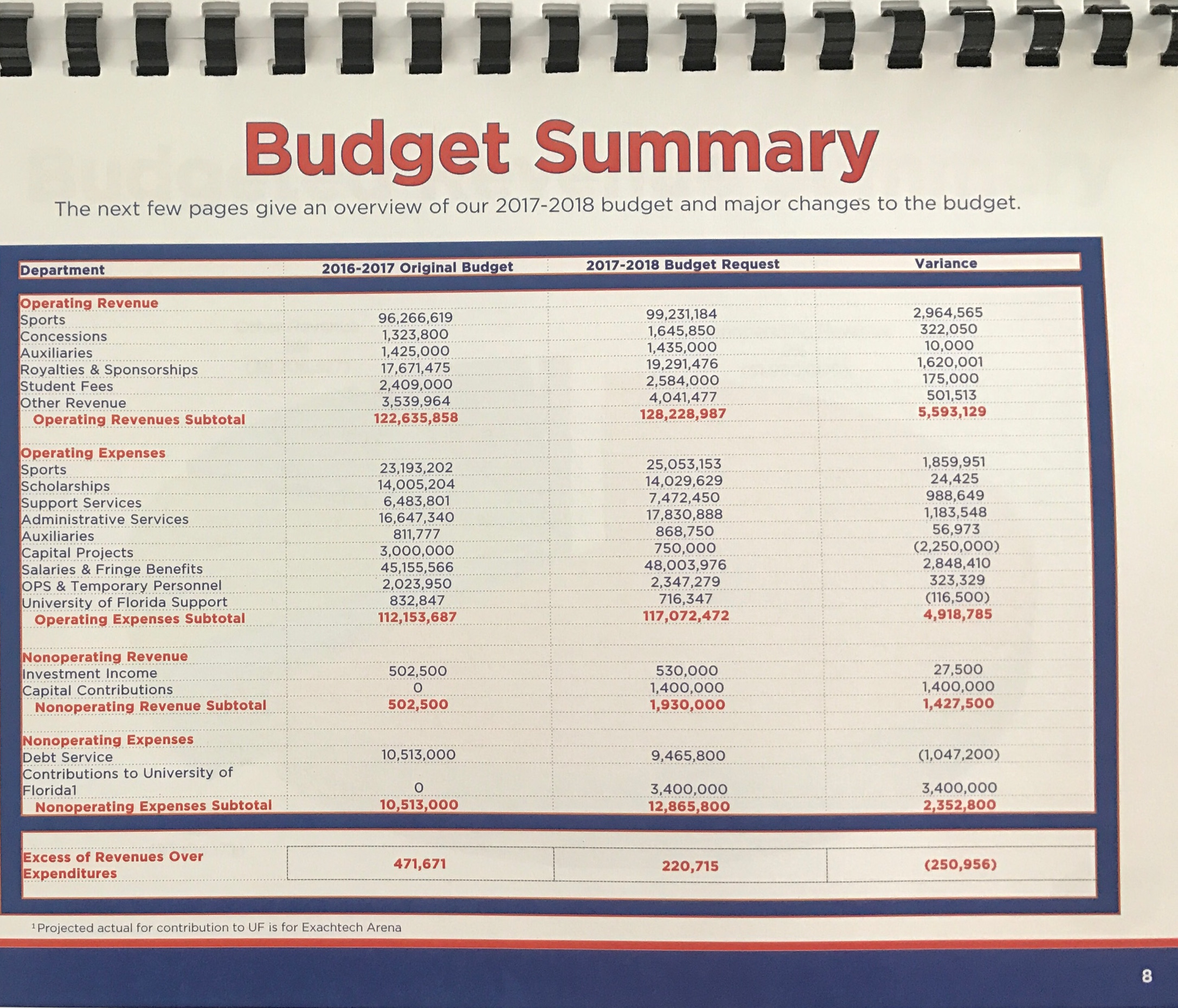 More than $29 million will go towards operating expenses of support services to the student-athlete and $14 million in scholarships. In the first year of the new athletic director Scott Stricklin, the increase is a 4.6-percent overall surplus as compared to 2016-2017.
Breakdown by Sport
Listed are the revenues and expenses within the budget by athletic program.
Football –  Expense: $25.46 million  Revenue: $82.55 million
Men's Basketball – Expense: $6.88 million Revenue: $13.48 million
All other sports- Expense: $17.6 million Revenue: $3.19 million
 Updates to Facilities
The biggest and flashiest additional to the budget this year is the permanent installation of the 3D court projection. Fans got to experience the projection for the first time as a pre-game opener to their matchup with Kentucky on Feb.4. The system cost $25,000 to rent and the Gators won out
88-66 over the Wild Cats. The permanent fixture will take up $350,000 of the budget.
The projection can also be used for women's basketball, volleyball, and gymnastics.
Fans will see multiple improvements to Ben Hill Griffin Stadium including LED ribbon boards in the end zones, more stadium scoreboards and drink rails in the end zones.
The swimming and diving facilities will also get a new scoreboard.
An additional $1.7  million not included in the budget will go towards fan enhancements. The money is a surplus provided by the university's revenue-sharing deal with IMG.
But What About The Big Stuff?
Some of the larger projects that fans have been stirring about are a new stand-alone football facility with state-of-the-art features. This, as well as other capital projects like a dining hall for all student athletes; expansion and renovation of baseball's McKethan Stadium and softball's Pressly Stadium, was funded by private contributions.
https://twitter.com/GatorsFB/status/834470087901995008
The proposed budget was signed off by the UAA Board of Director's early Monday for final ratification.