The Florida baseball team suffered its first loss of the College World Series and are now facing elimination after losing to the TCU Horned Frogs by a score of 9-2 Friday. The Gators defeated TCU in their College World Series opener but were unable to find their offensive rhythm in the second match-up.
Game Summary
After two innings, it looked as if the first team to score would win this rematch; Jackson Kowar and Mitchell Traver were razor sharp early on the mound. Kowar struck out seven of the first eight hitters he saw. TCU though built momentum quickly in the top of the third inning. They put together three consecutive two-out hits to take a 2-0 lead.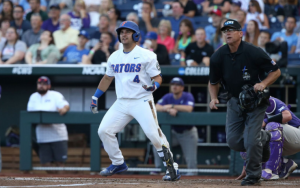 Kevin O'Sullivan's bunch responded immediately in the bottom half of the frame. Mike Rivera homered to left to cut the deficit in half. Dalton Guthrie added an RBI double off of the top of the left field wall to tie the game at 2-2 at the end of three. The Guthrie double was down the line and about an inch away from being a three-run home run.
TCU fired right back in the top of the fourth inning to retake the lead. A Josh Watson triple off of the glove of Nick Horvath in center field scored two Horned Frogs to give TCU a 4-2 edge.
The Gators turned to freshman Garrett Milchin in the sixth. He recorded only one out before loading the bases and exiting the game with an apparent arm injury. Frank Rubio then entered the game for Florida. An Austen Wade RBI fielder's choice extended the lead to 5-2. The game was put out of reach when Evan Skoug capped the TCU rally with a two-out, three RBI double. The bases-clearing liner put the Horned Frogs up 8-2.
TCU tacked on one more run in the eighth inning to make it 9-2 and Rubio would go on to finish the game for Florida. Kowar had a career-high 11 strikeouts on the night but took the loss after pitching five innings, giving up six hits and four runs with two walks. The Horned Frogs pitching staff held the Gators to a combined five hits. Charles King was particularly impressive as he went 3.1 innings in relief and surrendered no runs on just one hit.
Up Next
The two squads will meet for a third time on Saturday with a berth in the College World Series Finals on the line. The winner of the Florida-TCU matchup will take on the winner of the LSU-Oregon State matchup in a final best-of-three series beginning on Monday. Here are the details for tomorrow's games.
And four still remain in Omaha…#CWS Finals will be determined tomorrow! pic.twitter.com/e0LzSyXsys

— NCAA Baseball (@NCAACWS) June 24, 2017