On Tuesday night, the Gator baseball team lived out their dream scenario in Omaha — a dogpile, celebratory hats and t-shirts, and the hoisting of a championship trophy.
It was official: After a 6-1 victory over LSU, Florida won their first College World Series title in school history.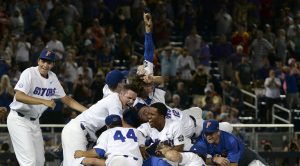 Looking Back
The tale of Florida's first baseball national championship will be one of a gritty team that never quit. They didn't quit after suffering mid-week losses to several in-state schools like Jacksonville and FGCU. They didn't quit after starting getting swept by Auburn in the opening series of conference play. And they didn't quit when injuries seemed to affect almost every player in the lineup at some point.
The mental toughness from battling past all of that showed on the diamond. They let the trio of weekend starters (Alex Faedo, Brady Singer, Jackson Kowar) and the shutdown closer in the bullpen (Michael Byrne) carry the way. All the bats needed to do was supply enough offense.
They played good defense, finishing with one of the best fielding percentages in the country. That defense helped lead the team to an NCAA_best 19 one-run wins. It's the same formula that carried them through Omaha. Guys stepped up in big moments, delivered timely hits, and produced just enough runs. On the mound, big-time performances from Faedo, Singer, and even Dyson in the final game carried the way and delivered the team a championship.
Looking Ahead
Kevin O'Sullivan will take a short time to celebrate with his players and assistants, but the grind never stops in college baseball.
As it seemingly happens every year at Florida, he'll be tasked with replacing some key cogs as they make the jump to the MLB or graduate from the university.
The first name that comes to mind is Alex Faedo. Faedo has been a weekend fixture for the Gators for three seasons in Gainesville and elevated his game his junior year. He turned it up a notch higher in Omaha. After 14.1 scoreless innings with 22 strikeouts at the College World Series, he won the tournament's Most Outstanding Player.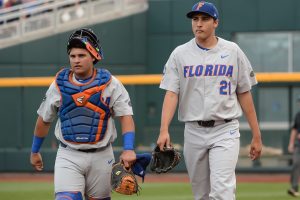 Others who will likely leave due to draft include catchers Mike Rivera and Mark Kolozvary and shortstop Dalton Guthrie. Rivera was a rock behind the plate when healthy, and Kolozvary did an excellent job filling in when Rivera suffered his hamate bone injury. Guthrie meanwhile turned in web gem after web gem in the middle of the infield.
Also leaving will be seniors like Frank Rubio and Ryan Larson, as they provided a veteran presence both in the bullpen and in the lineup. Larson was clutch for the Gators all season. He always seemed to come through when Florida needed him with big hits such as the walk-off single in Game 1 of the Super Regional against Wake Forest.
Built for the Future
Experienced Arms
Though the departures will leave holes in the squad next season, Florida is built to withstand them.
On the mound, the Gators return Brady Singer and Jackson Kowar as weekend starters, a good duo for any team to have returning. Michael Byrne also will be back for his junior season and can be used in a number of roles including the closer role he dominated this season. Tyler Dyson made his case for being a weekend or mid-week starter next season after coming along strong down the stretch.
This year's short-handed bullpen figures to be deeper next year with many of the young guys returning with experience. Nick Horvath, Andrew Baker, Garrett Milchin and Kirby McMullen, among others, saw various innings in relief this season. The will be a part of a more experienced, and as the Gators hope, more dependable bullpen next season.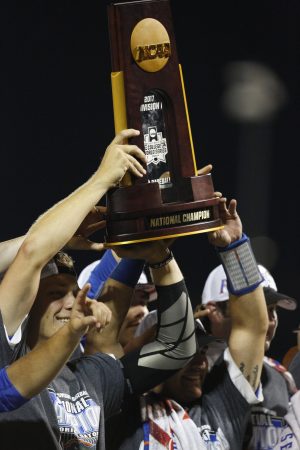 Key Bats
J.J. Schwarz is likely to return for his junior season after being drafted in the 39th round by the Rays. Going into the 2017 season, he was predicted by many to be a first-round pick. Coming back for an extra year and playing every day at catcher with Rivera and Kolozsvary gone can help him rebuild his draft stock.
Also returning are Nelson Maldonado, who led the team in batting average on the season (.299); Deacon Liput, who led Florida in batting average in Omaha; Jonathan India, who got hot after coming back from injury and Austin Langworthy, the only freshman consistently in the lineup and joined Faedo and Singer on the All-Tournament team.
2017 Recruiting Class
All of this is without mentioning that Florida has the No. 2 ranked recruiting class by Perfect Game coming into Gainesville. The class features top prospects such as Brady McConnell and Tommy Mace.
McConnell is a shortstop from Merritt Island, Florida, and was named a first-team All-American. Mace is 6'6″ pitcher from Sunlake High School in Land O'Lakes who was an honorable mention All-American and drafted by the Reds in the 12th round. In total, the class has 14 members that includes seven pitchers, three catchers, three shortstops, and an outfielder.
With all of the guys coming back or coming into the program for next season, O'Sullivan and the Gators will be looking to defend their title, knowing they already have that first one under their belt.