No. 12 Auburn Tigers kick their season off against Georgia Southern on Saturday. The Tigers are not taking this game lightly; they're preparing as much as possible for the game.
Georgia Southern's triple option offense gives the team a unique approach to the game. The Tigers had to prepare for this game differently.
Why is the Triple Option Hard to Defend?
The triple option is like a fast break for football. If done correctly, one defender is covering two offensive players, making the defender choose which player he is going to cover.
For Georgia Southern, the triple option lets the quarterback read the defense and make his decisions.  The Eagles only have five returning offensive starters which could be both a good and bad thing for the team.
https://twitter.com/GATALifestyle/status/903015266052968450
The Eagles are ready to come back after a tough season with head coach Tyson Summers. Now, the team is ready to prove what they can do in the season opener against Auburn.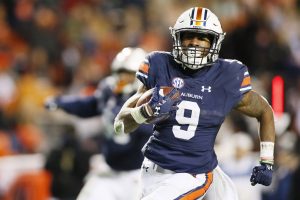 Auburn's New Offense
Auburn has a new offensive coordinator and a new quarterback.
Chip Lindsey is Auburn's new offensive coordinator and he's worked with the team all preseason to make his offense fit.  This game will show Auburn and the SEC what the Tigers can do under its new offensive leadership.
Jarrett Stidham is also making his debut as Auburn's quarterback. He transferred from Baylor after his freshman year and the Tigers have been waiting to use his skills. His ability to pass the ball downfield is a skill Auburn's offense has lacked in past seasons.
The game may prove to the SEC that the Tigers are back and ready to be a contender.
Auburn Head Coach Gus Malzahn is preparing for Georgia Southern to fight hard and play tough.
How to Watch the Game
The game will be aired on the SEC Network on Saturday. Kick off is at 7:30 p.m.