As Hurricane Irma made its way through Florida, Gator football players found themselves stuck between preparing for their SEC home opener against Tennessee and taking care of themselves, along with friends and family back home. As Irma disrupted nearly two full weeks of the Gator practice schedule, many Gator players took this extra time to rest up and watch extra game film.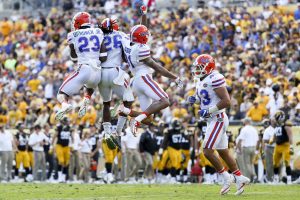 Weathering the Storm
"Hunker down and ride it out" was the theme for Gator players when asked what they were doing when Hurricane Irma made its way through Gainesville. Even with the storm's strength and presence in the area, it still could not stop many Gator players, like junior defensive lineman Khairi Clark, from thinking about this weekend's big match-up.
Sophomore defensive back Chauncey Gardner said during the storm, he used the extra time to catch up on game film with teammates.
While football is very important to many of these players, Gardner added that family was definitely the first thing on his mind as Irma made its way through Florida.
Shifting Focus to the Game
Now that the storm has passed, Gator players have to refocus on the task at hand: Tennessee. With the cancellation of last week's game against Northern Colorado, the Gators haven't taken the field for a full two weeks, and it's been over 300 days since Florida last played in The Swamp. With an SEC rival coming to town, senior cornerback Duke Dawson said that even with all the distractions, the Volunteers definitely have the Gators' attention this week.
Emotions will be high for players and fans alike in the stadium on Saturday. Head coach Jim McElwain has preached to his players that the Gators represent the whole state following this natural disaster. Khairi Clark says the team has really taken the message to heart.
Learning From Last Year
The Gators fell to Tennessee last year 38-28, a game in which Florida jumped out to an early 21-0 lead.  The loss to Tennessee is a memory that many veteran Gators do not take lightly. Duke Dawson says this Gator team has learned from last year's defeat.
Chauncey Gardner echoed this statement from Dawson. Gardner added that tackling is going to a major point of emphasis for the Gators this week.
The Florida Gators and Tennessee Volunteers will kickoff at 3:30 PM on Saturday. Coverage of the game will be on CBS.