History of the match-up
The Mercer Bears and the Auburn Tigers have met up 11 times dating back to 1896. Over this span the Bears have yet to defeat the Tigers.  However, the two teams last match-up was in 1922 due to Mercer's program disappearing until they returned just 4 years ago. Both teams are coming off tough losses and the teams will be looking for good performances in order to comeback from last weeks' losses.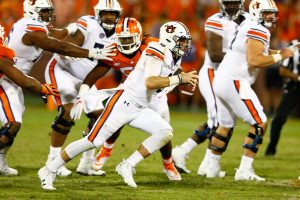 Auburn's Recovery
The Auburn Tigers are coming off a tough loss to the defending national champions of college football last week and turning their attention to their homecoming game this week.
The team had a poor offensive performance allowing the Clemson defense to have 11 sacks while only gaining 117 total yards.
Auburn was held to just one field goal in both the first and second quarters and the Auburn Tigers didn't get on the board the entire second-half. Coach Malzahn for Auburn says that the team had a successful week of practice to prepare for this weeks game.
Tigers Threats
Auburn's O-line struggled last week against Clemson but the team will look to improve against Mercer this weekend.
The Tiger's defense was not the issue last week holding Clemson to only 14 points but the team will have to make sure to have an explosive offense in order to compete this week and in the future weeks to come in SEC play.
Auburn's red-shirt sophomore quarterback Jarret Stidham will look to lead the offense to more than the 117 total yards that they had against Clemson. Coach Malzhan is hoping his wide receiver corps will give Stidhman more options this week for the Tigers.
Bears look to bounce back
https://twitter.com/MercerFootball/status/908725027293495296
In the final nine minutes of the football game last week, the Bears gave up a 13-point lead to the Wofford Terriers and lost 28 to 27.
Senior wider receiver for the Bears, Avery Ward, had an impressive performance last week after returning from an injury in the previous season. Ward has missed five games and had an impressive showing hauling seven catches for 113 yards while also having one touchdown. Ward will look to be an offensive threat for the Bears this weekend against Auburn's tenacious defense this weekend.
Tomorrow
Kickoff for the homecoming game against Mercer will take place tomorrow at 3 p.m. at Jordan-Hare Stadium.