A strong showing for Florida Gator athletics this weekend as the Gators had a pair of late game miracles.  Felipe Franks led the ravenous Gators to a 26-20 walk-off victory over rival Tennessee with a 63-yard bomb to Tyrie Cleveland as time expired in regulation.  Florida soccer followed that performance with a 96th minute golden goal from Deanne Rose in Sunday's matchup against the Cyclones at Iowa State.
https://twitter.com/GatorsSoccer/status/909507465628323840
The game-winner was Rose's second goal of the day.  With it, Rose recorded her first multi-goal match of her collegiate career.
The Gators have gone to overtime twice this season, coming up with road victories in both contests.
Gators Ride Consistent Play in Win
Hannah Cade scored the opening goal of the game for the Cyclones in the 14th minute off a corner kick from teammate Merin Mundt.
The Gators tied the game on a corner kick of their own in the 56th minute.  Gabby Seiler delivered a pass to Deanne Rose, who was able to tuck the ball inside the near post for a momentum shifting equalizer.
The Gators won the game on a perfectly executed play in overtime.  Parker Roberts sent a beautiful diagonal ahead to Rose who hammered the ball in from seven yards out.
Gator goalie Kaylan Marckese protected the net, recording six saves Sunday.  The performance ties her previous collegiate high in saves for the sixth time in her career.
Florida ranks No. 7 on the United Soccer Coaches poll.  The Gators look to ride their strong start to the season as they prepare for a inter-conference matchup with Texas A&M Thursday.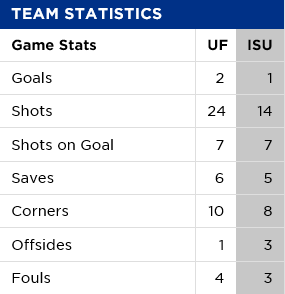 Records
Florida: 7-1-0, 1-0 SEC
Iowa State: 2-6-1, 0-0 Big 12
Up Next
No. 7 Florida @ No. 22 Texas A&M on Thursday, Sept. 21.