The Detroit Lions move to 2-0 on the season after beating the 0-2 New York Giants 24-10 on Monday Night Football.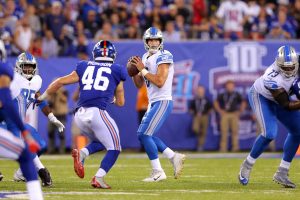 The New Matthew Stafford
On Monday night, Stafford brought his endurance and toughness to the game. Ready to play a great game, he proved to fans that he is more than just a fourth-quarter miracle hero. In the second quarter, the starting quarterback held it together after squinting in pain on the sidelines. It appears that he was poked in the eye on a strip-sack. However, the Lions got the ball back on the next play and he delivered a quick touchdown drive that secured the Lions lead. Even in the first quarter, he put his trust in Marvin Jones Jr. by throwing a deep shot when necessary.
Giants Struggling
Giants coach Ben McAdoo spoke after the tough loss Monday night.
WATCH: Coach Ben McAdoo's postgame reactions following Monday night's loss pic.twitter.com/sQF0DdDfgr

— New York Giants (@Giants) September 19, 2017
Detroit was able to sack quarterback Eli Manning five times– New York was stuggling offensively last night despite having Odell Beckham Jr. back. But Beckham was on the field for less than half of the snaps during the first half and while he played more in the second half, his presence was more for "only when necessary" plays. When Beckham initally talked to reporters, he stated that his ankle injury would take six to eight weeks to fully recover, however, he managed to play after four weeks of recovery but he clearly was not at full strength.
With a weak Beckham, New York also had a struggling offensive line. Due to injuries and poor play, the line struggled all night to protect Manning and the Giants offense struggled as well.
Eli Manning: Guys are going to stick together and keep working. The defense is playing tough. The offense has to do our part.

— New York Giants (@Giants) September 19, 2017
Up Next
Detroit will host the Atlanta Falcons on Sunday while the Giants will be in Philadelphia to play against the Eagles.