The South Carolina Gamecocks (2-1) host their fourth game of the season this Saturday. After losing to the University of Kentucky Wildcats last week, now the Gamecocks are hoping to pull off a win at home this weekend. The Louisiana Tech Bulldogs are also 2-1 this season. The Bulldogs are traveling to Columbia, South Carolina, to play their second game against an SEC opponent this season.
South Carolina Without Deebo Samuel
The Gamecocks are hoping to improve their record 3-1 this weekend without 2016 Steve Wadiak Co-Most Valuable Player, Deebo Samuel. The 6-foot, 215-pound redshirt junior is expected to be out for five weeks, if not the remainder of the season. Last Saturday, Samuel broke his leg during the third quarter of the Wildcat-Gamecock match-up. Samuel is one of the most electric players in the SEC, scoring six of South Carolina's 11 touchdowns this season.
The dynamic athlete was named preseason first-team All-SEC as an all-purpose back, and second-team as a kick returner by Athlon Sports. Samuel has 15 catches for 250 yards and three touchdowns. In addition, Samuel took two kickoff returns back for 194 yards, two touchdowns and two carries for 30 yards. Samuel is second in the SEC for all-purpose yardage with 158 yards per game.
According to the Charlotte Observer, Muschamp and several South Carolina players suggested freshman wide receivers Randrecous Davis, OrTre Smith and Chad Terrell all can expect more action with Samuel missing from the lineup. Those players have one catch each so far this season.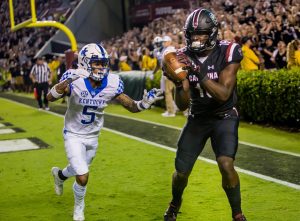 Muschamp Ready for Louisiana Tech
In the SEC teleconference, Head Coach Will Muschamp said Samuel was released from the hospital with good spirits. Muschamp says replacing Deebo will be difficult.
Muschamp says other receivers will have to work together to fill the void.
Muschamp says the team has had a week to practice without Samuel, and only time will tell if they can pull off a win without him.
During an interview, South Carolina's Terry Googer said the loss against Kentucky has pushed them to be a more physical team. Googer realizes that they need to play their best game this weekend against Louisiana Tech. "They have some athletes that can play," Googer said. "This is not a cake walk."
Coach Muschamp agrees with Googer.
When and Where to Watch
Start Time: 3:30 PM ET
Location: Columbia, South Carolina
Date: Saturday September 23rd, 2017
TV: SEC Network