Gainesville, Fla. — After all the hoopla surrounding the Gator football starting quarterback competition, it has ended to the dismay of redshirt junior Luke Del Rio. He will miss the remainder of the 2017 season due to a broken left collarbone suffered against Vanderbilt on Saturday.
"It's hard…I feel horrible for him," Gator coach Jim McElwain said after announcing Del Rio's status. McElwain also said Del Rio will have surgery on Monday.
The tough break comes after getting his first start of the season. Del Rio replaced redshirt freshman Feleipe Franks against Kentucky last Saturday and helped lead the team back from a 14-point deficit. He earned the starting spot at practice during the week and came out with a consistent first half against the Commodores.
He finished 7-for-11 with 64 total yards before going down in the second quarter on a pass play to Brandon Powell, which he completed. Del Rio rolled out and was tackled by a Vanderbilt defender. He exited the field after the play, holding onto his non-throwing shoulder. After talking with trainers, he headed to the locker room and did not return.
#Gators here's QB Luke Del Rio on his way out #TheSwamp and out the season with a broken clavicle. Surgery scheduled for Monday. #VANDYvsUF pic.twitter.com/6Vkq0aq8z5

— Darwin Patterson (@SportsDarwinism) September 30, 2017
Unfortunately, this is a familiar situation for Del Rio; his 2016 season was plagued with injury.  He was the starter for the first six games of the season until the snake bit. The first injury came against North Texas, causing him to miss two games. He came back and started for three more games before he sustained the season-ending shoulder injury at Arkansas.
"I'm praying for him and his family, it's tough when you go out there and take a big hit like that and you get hurt," competitor and fellow teammate Feleipe Franks said. "It's one of those things that you never want to happen to you."
"I wrote "Luke" under my left wristband at halftime. Our whole team is praying for him. Hopefully it's a speedy recovery." — @18franks pic.twitter.com/lPnm19dRhL

— Gators Football (@GatorsFB) September 30, 2017
Feleipe Franks: Reclaiming the Starting Spot
Franks and Del Rio, as well as graduate transfer Malik Zaire,  were in competition for the starting job all offseason. Franks was declared the starter for the season opener and maintained it through the Tennessee and Kentucky matchups.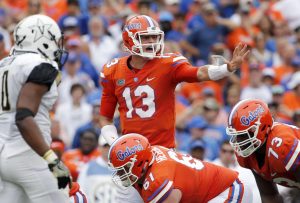 When he lost it to Del Rio for Vanderbilt, McElwain said that Franks handled it like a starter, never pouting.
"Obviously he was disappointed… but if you look at the last game, he was one of the first guys excited for the win," McElwain said. "He handled it the way a competitor should but even better – the way a great teammate should."
Franks' response shows his maturity in the role and sometimes coming off the bench allows a young quarterback to play loose.
When he took over on Saturday, he didn't seem to miss a beat. He completed 10 out of 14 passes for 185 yards and no interceptions. He entered on the Gators' last drive of the half after Vanderbilt took a three-point lead. Franks wowed on his third pass, launching a 49-yarder to Tyrie Cleveland that set up the team to tie the game with a field goal.
The run game continues to be a major help for Franks. Against Vandy, the Gators rush for 218 total yards, taking pressure off the QB throughout this game and throughout the season thus far.
So Franks is now the starter; his next big test comes next week when the LSU Tigers and its defense comes to town.