After being a part of Arizona State and Rice University, Egor Koulechov now calls the Florida Gators home. The 6'5″, 210 pound guard from Russia is looking forward to playing for the Gator Nation.
— Egor Koulechov (@RussianGusta) April 19, 2017
What Koulechov Brings
While Koulechov is making his debut for Florida this season, he holds the experience needed to be an integral part of another March Madness run. He spent the 2013-14 season as a freshman at ASU. During his time, he played a total of 377 minutes, 35-for-88 field goals made and 11-for-33 behind the arc.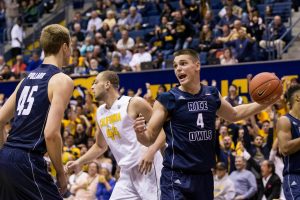 In 27 games played for the Sun Devils, he averaged 14 minutes, 2.8 rebounds and 0.6 assists per game before transferring to Rice University as a redhsirt freshman in 2014.
When Koulechov played in 2015 for the Owls, he played in 30 games, he played 1101 minutes and a 34.4 minute/game average. He also is responsible for a season total 175-for-420 field goals made, .417 free throw percentage, 224 rebounds, 44 assists and six blocks.
In his final year at Rice, he put up 1201 minutes, an increase from 2015, across 35 starts for the Owls. His production also increased as he amassed a .474 percent three-point percentage, going 208-for-440 in field goals made, 81-for-171 three-pointers, 312 rebounds, 75 assists and 11 blocks.
After his junior season at Rice, he would make the decision to leave the program in a tweet explaining why.
— Egor Koulechov (@RussianGusta) March 29, 2017
Biggest Adjustment
After deciding to pursue other personal challenges and leaving Rice, Koulechov would make the move to the Gator Nation. While it is a bold move for Koulechov, it is a challenge he is looking forward to facing.
While he knows his way around the hardwood, he is in the middle of an adjustment period to the Gators. Koulechov has been on both big and small campuses, but says that Florida is a blend of both. While plenty of students go to UF, he still feels as if it's a small campus.
https://twitter.com/RussianGusta/status/854745132339429378
Koulechov also had a limited amount of time to adjust to the campus before being sent off to the World University Games. He spent about two weeks on campus getting acclimated to the system of Mike White. He was hoping to spend his summer at UF to really adjust and learn the system, but it was not meant to be.
Koulechov is joining a team that is looking to make a serious playoff run again this season. He looks to be a big part of that, while looking forward to playing with veterans of the team that would lead the charge for Florida in March Madness last season. Among those he's excited to play with are Chris Chiozza and Jalen Hudson.
With his unique offense and play-style, Koulechov is looking to be a key player in another Florida Gators push to playoffs this season.
What's Next
The Florida Gators' season is right around the corner. They begin with an exhibition game against the Tampa Spartans on Nov. 5 at 2 p.m. from the ExaTech Arena at Stephen C. O'Connell Center. The team follows that with two more games before participating in the Phil Knight Invitational. For more on Gators men's basketball, stick with ESPN Gainesville as we march toward the new season.