The Florida Gator baseball team will begin its fall practice sessions this Wednesday at McKethan Stadium. Team workouts will be held on Wednesday, Thursday, Friday and Sunday. Practices will be open for the public to watch.
Pitching Schedule
The practices may change depending on weather or other on-campus events and updates will be provided weekly on FloridaGators.com. For now, this is when the Gators will practice this week…
Wednesday, Oct. 11 – 2:15 p.m.

scrimmage – 4:10 p.m. (4 1/2 innings)

Thursday, Oct. 12 – 2:15 p.m.

scrimmage – 4:10 p.m. (4 1/2 innings)

Friday, Oct. 13 – 2:15 p.m.

scrimmage – 5 p.m. (4 innings)

Sunday, Oct. 15 – 2 p.m.

scrimmage – 3:30 p.m. (8 1/2 innings)
Last Season's Success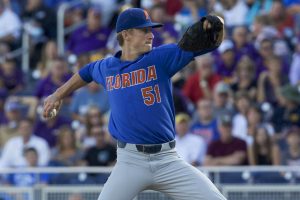 The Gators are coming off of their first-ever College World Series championship after beating LSU in two consecutive games.
One player that led the Gators to victory was junior pitcher Brady Singer. In Game 1 of the CWS against LSU, Singer struck out 12 batters in a tight 4-3 win; his 12 strikeouts are the most recorded by any pitcher in the CWS Finals, and the most by any Gator pitcher in the CWS.
He led the entire SEC by striking out 51 batters looking in 19 total starts.
Missing Gators
Eight Gator players were drafted in the 2017 MLB Draft. Among the draftees was starting pitcher Alex Faedo who was taken 18th overall by the Detroit Tigers. Faedo is the 19th Gator player to be drafted in the first round of the MLB Draft in program history.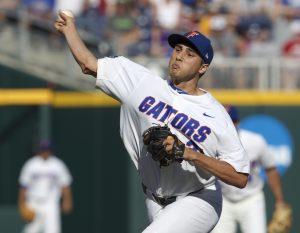 The other players who were drafted are shortstop Dalton Guthrie, catchers Mike Rivera and Mark Kolozsvary, relief pitchers David Lee and Frank Rubio, second baseman Deacon Liput and catcher/first baseman JJ Schwarz.  Schwarz will return to school for his senior season.
A New Beginning
The Gators will start their 2018 season at home against Siena College on Friday, February 16.