This weekend is packed with Florida Gator athletic events. Aside from Gator Football playing in the big rivalry game against the Georgia Bulldogs Saturday; there is also Gator Cross County, Men and Women's Swimming and Diving, Volleyball and Baseball to be played.
Gator Cross country
Congratulations to @theRealdill1 on making the @SEC All-Freshman Team‼️That makes 8 years in a row for the men.

#GoGators #WeChomp pic.twitter.com/CGsyYpQSWk

— Gators T & F and XC (@GatorsTF) October 27, 2017
Florida's Men and Women's Cross Country team struggled in the SEC Championship Friday. The championship was hosted by the University of Georgia. The men finished 10th and the women finished 13th. Marshall Dillon had the fastest time for the Gators in the 8k race (25:03.9) and finished in 38th place. Dillon also earned himself a spot on the SEC-All Freshman Team. In the women's 6k, junior Morgan Hull had the fastest time for the Gators (22:09.756) and finished in 58th place. The average time for the men was 25:29.90 and the average time for the women was 23:04.14.
Gator Swimming and Diving
Florida Football aren't the only ones taking on the Dawg's. The 3rd ranked Men and 20th ranked Women's Swimming and Diving teams have been faced and continue to face Georgia through Friday.
Four ranked teams. Two Schools. One pool.

Come support your Gators at 10 a.m. on Friday!

Watch: https://t.co/RUyVUGEHbU#GoGators pic.twitter.com/nE9iSRI3st

— Gators Swim & Dive (@GatorsSwimDv) October 27, 2017
Thursday they competed in diving and the results for the Women's 1-meter were:
1. Brooke Madden (316.58)
4. Teya Syskakis (269.03)
5. Emma Whitner (255.30)
7. Brianna Felegi (228.75)
8. Boni Trinter (201.53)
The results for the Men's 1-meter were:
3. Dalton Goss (290.85)
4. Alex Farrow (281.03)
Friday morning, some of the Gators first place finishes include:
Both Men and Women's 200 medley relay. Ben Lawless won the Men's 1,000 free (9:05.41). Khader Baqlah won Men's 500 Free (4:24.07) and the men's 200 Free (1:36.34). In the Women's 100 Emma Ball (52.73) won. Caeleb Dressel won the Men's 50 Free (19.93) and Men's 100 Free (44.00). In the Women's 3-meter Teya Syskakis (315.53) won. Jan Switkowski won the Men's 100 fly (47.02), the Men's 200 Fly (1:44.35) , and the Men's 200 IM (1:44.99).
Gator Volleyball
Number 4 ranked Gator Volleyball will be taking on South Carolina in their "Dig Pink" match Friday at 7:00 P.M. in the Stephen C. O'Connell Center. The girls will play again on Sunday when they travel to Mississippi State to face the Bulldogs at 1:00 P.M. For both games, you can watch on the SEC Network or listen on ESPN Gainesville 98.1 F.M. Florida is currently 16-1 and 8-1 in the SEC. The team is a game behind Kentucky and they will get a rematch in Lexington Wednesday.
https://twitter.com/GatorsVB/status/922934474249330688
Gator Baseball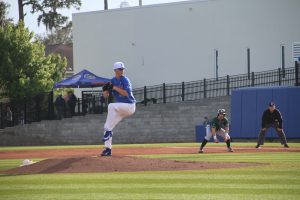 While we're still a few months out from the start of Gator Baseball. You can get a sneak peak of the returning National Champions this weekend as they hold their last few fall scrimmages. The scrimmages are inner-squad (Blue vs Orange). They're holding scrimmages in Alfred A. McKethan Stadium; Friday at 4:00 P.M. (5 innings), Saturday at 2:15 P.M. (6 innings), and Sunday at 12:30 A.M (7 1/2 innings). Some of the teams stand-out pitchers in the 2017 are schedule for Saturday and Sunday. Andrew Baker and Tyler Dyson are two out of five scheduled to have the mound on Saturday. For Sunday's game, Michael Byrne, Nick Horvath, Jackson Kowar and Brady Singer are four out of seven scheduled to pitch.