If Florida head coach Jim McElwain's seat was any hotter, it would be on fire.
At this point, there's has been plenty of smoke about a possible firing, and it looks like those rumours may be coming true.
Following a 42-7 demolition at the hands of archrivals Georgia, McElwain gave a never-before-seen press conference. He spoke like a man who knew his days were numbered. Like a man who knew he may not make it through the weekend.
Jim McElwain at the podium now: "Still like these guys. Still like this team. Bunch of hard-working young men." #Gators pic.twitter.com/5WoOFc3td3

— Jonathan Acosta (@jonacosta_10) October 28, 2017
When asked about his job security, McElwain would either be ambiguous or defer to caring about the players. McElwain seemed borderline emotional at many points during the press conference.
Mac when asked about job security: "Brought here to win, and we haven't done it." Says his concern isn't about himself, but for his players

— Jonathan Acosta (@jonacosta_10) October 28, 2017
Situation Turned Sour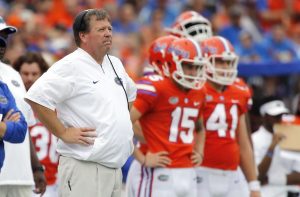 And frankly, the situation isn't surprising. Florida is coming off of not only their worst performance of the season. This is arguably their worst loss of the McElwain era, considering the hype and tension, and the week leading up to the game.
The week was a strange one for McElwain. He mentioned receiving death threats at a press conference early in the week, only for the statement to backfire. According to an official athletic department release, he revealed no further information. That lent credence to many that either the rumours were false or were greatly exaggerated.
The week culminated in reports about McElwain's job status during the game. ESPN's Edward Aschoff and Mark Schlabach reported that Florida administrators are working on firing the third year coach with cause after "failing to find any evidence to substantiate claims made by McElwain this week that his family and players received death threats."
For McElwain, that's not the one reason, but that's probably what was one of the final straws.
Lack of Progress
In reality its been a culmination of things. The death threats claim, the suspensions, the rift with the UAA, and especially the lack of progress on offense.
It's year three of the McElwain era, and the Gators still haven't found a permanent, solid quarterback. Feleipe Franks threw for 30 yards against Georgia and the Gators rank 100th in total offense. The Gators have been 100 or below every year under McElwain in total offense. For a coach who said he could run a successful offense with his dog, that's been a hard statistic to sell positively over the past two and a half seasons.
And it seems like McElwain realizes that reality as well.
Mac: "I know what I was brought here to do. We haven't been good on offense." Certainly speaking like he feels like he may be gone

— Jonathan Acosta (@jonacosta_10) October 28, 2017
One of the main reservations that there would be with firing him would be the potential impact on the Gators' top 10 recruiting classes for 2018 and 2019. But as Zach Abolverdi of SEC Country reported, recruits are waiting for an answer at this point as they don't want to be left in limbo about what the coaching situation will be. Considering these classes hold major prospects like 5-star quarterback Matt Corral, it's important for Florida to keep as many of their top recruits as possible.
And while it seems like the situation has escalated quickly this week, there has been enough smoke this week to assume there's a firing coming.
McElwain asked if he'd be surprised if he's not Florida's coach tomorrow: "Nothing surprises me."

— Andy Staples (@Andy_Staples) October 28, 2017
Fans shouldn't be surprised either if they have a new head coach at some point this season. And for the future as well.
Players were asked about the rumors of their coach being fired and they all responded with, "I have no comment about coach…I'm here to talk football."