The Florida Gators have a plethora of depth at center, even with starter John Egbunu out until January with a torn ACL. The Gators split time at center last season between John Egbunu and Kevarrius Hayes. Both play similar styles of ball, which allowed head coach Mike White to rotate them evenly at his disposal. Egbunu, who is an enormous 6'11", 265 pound beast of all muscle, is a dominating force down low. As a junior, he averaged 7.8 points, 6.6 rebounds, and 1.5 blocks in 22.3 minutes per game. Egbunu set the University of Florida single-season record in 2015-16 with 75 dunks. Unfortunately, he tore his ACL on February 14th against Auburn, which opened up more opportunities for Hayes and freshman Gorjok Gak.
Hayes and Gak Manning the Frontcourt
With Egbunu expected to be on the shelf until January, Hayes and Gak must continue to step up for the Gators to remain in the AP Top 10. Hayes became an emotional leader for the Gators when Egbunu went down. He is a big-time effort and attitude guy, and helped lead the Gators to their first Elite Eight since the 2013-14 season.  As a sophomore, he averaged 6.2 points, 4.4 rebounds, and 1.7 blocks in 18.3 minutes per game. Hayes had 10 games with at least three blocked shots last season, including five in the season opener against FGCU. He is also the fourth Gator in program history to block 60 shots in a season. The other three are Joakim Noah, Al Horford, and Dwayne Schintzius. The Live Oak product is a long and athletic shot blocker and rebounder.
White on Kevarrius Hayes — "He's facing up more .. He hasn't had a bad practice since he enrolled in school. Effort, intensity the same."

— Kevin Brockway (@gatorhoops) October 3, 2017
From The Tip
In the Gators' season opener against Gardner-Webb, Hayes blocked two shots in 21 minutes of action. He also showed flashes of a mildly developed mid-range jump shot. He hit a 19-footer with ease, and hit another 10-footer from right inside the foul line. While Hayes isn't expected to reliably produce points from outside the paint, being able to consistently hit a 10-15-foot jump shot could open driving lanes for his teammates. This, in turn, would open up more uncontested three-pointers, assuming the extra pass is made.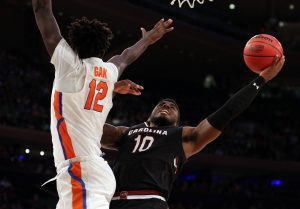 Gorjok Gak showed some promise backing up Hayes at center when Egbunu went down last season. While he only averaged 1.5 points and 1.5 rebounds in 5.3 minutes per game as a freshman, this accumulated to 11.5 points and 11.5 rebounds per 40 minutes. He also showed an ability to run the floor and handle the ball well for someone his size. Gak should only improve as he gains more collegiate experience. The Sydney, Australia product scored a career-high six points in 10 minutes in the second round of the NCAA tournament against the University of Virginia. He has a 7'4" wingspan, which allows him to block shots with ease. He only played 80 total minutes last season and had a total of three blocks, but had two blocks in 12 minutes during the Gators season opener against Gardner-Webb. More time on the court for Gak will undoubtedly lead to higher efficiency and superior statistical production.
What to Expect When Egbunu Returns
When Egbunu returns in January, the Gators will be loaded with depth on their front line. Mike White has been vocal about wanting to play with four three-point shooters on the court at a time. However, putting Egbunu and Hayes on the court could wreak havoc for opposing defenses. They are both premier shot-blockers, and would absolutely dominate the interior and the offensive and defensive glass. However, Hayes and Gak will stabilize the interior until Egbunu is back. When he joins the active roster, the Gators will truly be a team to recon with.