Thursday night was a historic and memorable one for both the Miami Marlins organization and for their right fielder Giancarlo Stanton. The four-time All-Star became the first Marlin to win the National League Most Valuable Player Award.
Who would've thought this mullet headed kid from Sunland-Tujunga was going to be MVP one day.… https://t.co/EMckkLuhov

— Giancarlo Stanton (@Giancarlo818) November 17, 2017
However, it was a close running for the award with Stanton finishing just two points ahead of runner-up Cincinnati Reds' Joey Votto. Stanton finished with 302 points, followed by Votto and Arizona Diamondbacks' Paul Goldschmidt who came in 3rd with 239 points.
The award was voted on by the Baseball Writers' Association of America (BBWAA).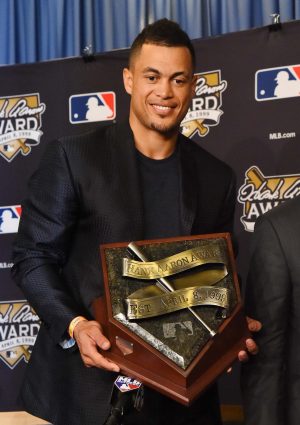 Award Season for Stanton
The Marlins might not have made it to the postseason, but this offseason has been filled with a number of awards for Stanton.
At the World Series, he was named the Hank Aaron Award winner for the NL and a week ago he received the NL Silver Slugger Award. He also won the NL Players Choice Award for Outstanding Player.
2017 Season
There is no doubt it was a powerful and standout season for Stanton. He led the majors with 59 home runs and 132 RBIs. He also finished his season with 32 doubles and a .631 slugging percentage.
And as mentioned earlier, the Marlins did not make it to the postseason. They finished second in the NL East behind the Washington Nationals with a record of 77-85.
What's Next?
It has been widely reported, including in an article by ESPN, that the Marlins are shopping the MVP to cut their payroll. However, with the 10 years and $285 million that remain, as well as a no-trade clause, there could be obstacles in moving him.