Pittsburgh Steelers came alive in the fourth quarter to pull off a 40-17 win over the Tennessee Titans, in the Thursday night matchup. Titans kept it close till the fourth quarter when the Steelers started firing on all cylinders. And Ben Roethlisberger and Antonio Brown were an electric duo. The pair had one of their best games this year.
Quarterback Difference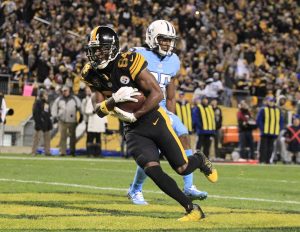 Big Ben came to throw down. Literally. Roethlisberger threw four touchdowns and went 30-45 for 299 yards to help bring his team to 8-2 on the season.
Roethlisberger connected to Antonio Brown for three of his four Touchdowns. Brown went 10-13 for 144 yards averaging 14.4 yards. And if you had either Ben Roethlisberger or Antonio Brown on your fantasy team, you woke up with a smile on your face. Roethlisberger put up 29 points and Brown put up a whopping 42.4 points. His other touchdown pass was a one yarder to TE Jessie James. And James had 13.1 points on fantasy.
In a post game interview Roethlisberger, thought it was time for his offense to step up and help out the defense.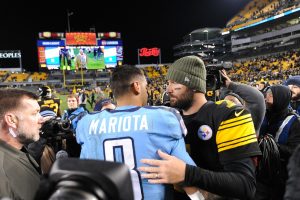 Meanwhile, Titans QB Marcus Mariota played a strong game, but the Steelers back field proved to be too strong. Mariota threw four interceptions. Aside from that, he did go 22-33 for 306 yards. He also threw one touchdown and earned another with his legs. Mariota's one touchdown pass was a 75 yarder to Richard Matthews in the first play of the second half. And like Roethlisberger and Brown if you had Richard Matthews on your fantasy team you'd be sittin' pretty. Matthews put up 22.3 fantasy points. However, many probably weren't starting the wide receiver, due to a low weekly prediction rating.
The now 6-4 Titans kept it close in the first half, but when the fourth quarter came around it was all Steelers. Pittsburg put up 17 points on Tennessee, and the Titans were unable to answer back with any scores. Mariota was disappointed the team couldn't muster anything up in the second half.
Mularkey on the Game
Head Coach for the Titans, Mike Mularkey played tight end for the Gators from 1980-1982. He's been coaching with the Titans since 2014 and was promoted to head coach in 2015. In the post game, Mularkey pointed out some of the issues that hurt the team; like the dropped touchdown pass and a bad placement of the ball by the refs that cost them. One of the big reason he gave was the turnovers the team gave up.
On to the Next
Next game for the Titans will be on Sunday 11/26, where they travel to face the Indianapolis Colts. And for the Steelers, their next game will also be Sunday 11/26, when they take on the Green Bay Packers at home.