The Tampa Bay Buccaneers (4-6) celebrated their first road win of the season as they beat the Miami Dolphins (4-6) 30-20 on Sunday. The Bucs scored a field goal and a fumble touchdown at the end of the fourth to win the game. Ryan Fitzpatrick threw for 275 yards and two touchdowns.
Dolphins quarterback Jay Cutler was replaced by Matt Moore after he threw three interceptions in the first half. The Dolphins said he was diagnosed with a concussion. Moore went 17 of 28 for 282 yards and a touchdown that tied the game with three minutes left in the fourth.
Bucs score late to win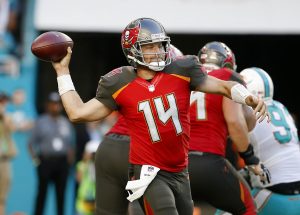 The Buccaneers blew a 13-point lead but managed to come back with a 35-yard field goal with four seconds remaining in the game. "That's really all that matter is having more than they've got at the end," Buccaneers coach Dirk Koetter said. "Shouldn't have to win it like that when it's 5-0 in the turnover margin. But, you know, a win is a win is a win in the NFL and you never apologize for it."
The coach also gave credit to his quarterback Ryan Fitzpatrick:
The Buccaneers were down 7-3 after the first quarter and outscored the Dolphins with 17-0 in the second. Patrick Murray scored a 30-yard field goal and Ryan Fitzpatrick added two touchdown passes to O. J. Howard and DeSean Jackson to give his team a 20-7 lead at halftime.
Dolphins kicker Cody Parkey scored two field goals in the third quarter and Kenny Stills finally tied the game at 20, catching a 61-yard touchdown pass from Matt Moore. It was the longest passing play the Dolphins had all season. But the Miami defense could not stop the Buccaneers from scoring late to win the game.
Fitzpatrick was proud of his team stepping up late:
UP NEXT
Tampa Bay will visit the Atlanta Falcons on Sunday, November 26.
The Miami Dolphins will try to bounce back on the road against the New England Patriots.