This year's meeting between Florida and Florida State in football has a different feeling to it.
Figures of years past like Dalvin Cook and Teez Tabor…gone.
The hype and build up of a clash between two of the state's best teams with winning records…gone.
What isn't gone though is how much this rivalry means to both teams and to the state as a whole. Just ask Florida offensive lineman Tyler Jordan.
"It's always big, you know," Jordan said. "They are our biggest in-state rival. It's a big game in The Swamp and it's going to be a fun one."
Losing Records
Often when these two teams meet in each other's last regular season game, they're ranked. At the very least, you can usually count on both teams having winning records.
Not this year. For the first time since 2011, neither team is ranked, and for only the second time in series history, both teams come into the game with losing records.
For Florida, suspensions, shaky quarterback play, countless injuries, and a coaching change have all been part of a 4-6 season that leaves them facing the prospect of not playing in a bowl game.
In Tallahassee meanwhile, the Seminoles came into the season as favorites to reach the College Football Playoff, entering the season as the third ranked team in the country.
Instead, a season ending injury to quarterback Deondre Francois has been an influence behind the Noles having an offense that struggled just as much as the Gators and has them with an equal 4-6 record.
Florida's offense ranks 108th in the nation at 341.5 yards per game. Florida State's ranks 109th at 340.3 yards per game.
It hasn't helped that the Seminoles have played the fourth toughest schedule in the country that includes losses to Alabama, Clemson, and Miami.
Bright Spots
Each team has had bright spots develop throughout a difficult season that they hope come into play Saturday.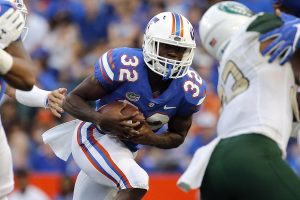 Despite losing Jordan Scarlett to suspension at the beginning season and Malik Davis to injury in the middle of the season, Florida's run game has continued to chug along.
They've rushed for at least 165 yards in seven games this season and over 200 yards three times, hitting that mark in their last Saturday against UAB. Lamical Perine and Mark Thompson have been part of the attack all season, but freshman Adarius Lemons has added another spark. Lemons is the quicker and shiftier of the three backs, and led the team in rush yards against UAB, tallying 89 yards on 11 carries.
On the opposing sidelines, freshman quarterback James Blackman has slowly come along since stepping in for Francois, throwing three touchdowns in a game for the first time in last week's blowout win over Delaware State. In addition, freshman running back Cam Akers has impressed out of the gates, 780 yards on the season and four touchdowns.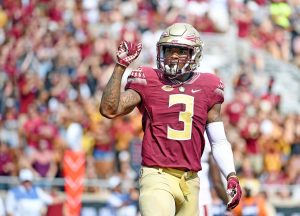 Still, the strength of the team remains the defense. Led by preseason All-American safety Derwin James, the Seminoles carry a top-30 defense in passing efficiency and total yards, giving up 346.4 yards per game. FSU's defensive line has created havoc throughout the season, averaging 6.9 tackles for loss per game. A key match up will be how Florida's beaten-up offensive line will handle the speed and strength of Florida State's defensive line, featuring guys like Brian Burns and Josh Sweat.
Series History
Florida owns the all-time lead 34-25-2, but as of late it's been all Florida State. The Seminoles have won four years in a row, including blowout wins the past two years: 27-2 in Gainesville in 2015, and 31-13 last year in Tallahassee.