Florida football interim head coach Randy Shannon says going into the FSU game this weekend, his team will have to improve in many areas.
Need for Improvement from Receivers
After the 36-7 win over UAB, one position group that caught criticism for their play was the receivers. Despite quarterback Feleipe Franks turning in a solid, efficient performance, Shannon noted that the receivers let him down with multiple dropped balls.
"We've got to do a great job of getting them guys tuned in because coming off last week, they didn't execute the way we wanted them to," Shannon said.
Standing Out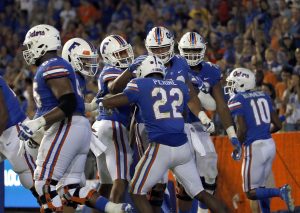 On the other hand, one position group that Shannon has been impressed with has been the running backs. Running back has been one of Florida's deepest positions this season, and that's why its been able to withstand the suspension to Jordan Scarlett, as well as the loss of freshman Malik Davis, who was the team's leading rusher at the time of his season-ending injury against Georgia.
Florida ran for 257 yards against UAB, with running backs Adarius Lemons, Lamical Perine, and Mark Thompson combining to go for over 200 yards. It was yet another dominant rushing performance in a season in which the run game has been the one highlight for a generally struggling Gator offense.
"When you have opportunities like that, you capitalize on it, and those three guys have done that," Shannon said.
"When you have competition like that, it brings the best out of everyone, and that's what it's done."
Another player Shannon praised was Duke Dawson. Dawson came into the season as one of the team's defensive leaders, and after the loss of Marcell Harris just before the season started, Dawson has had to take even more a leadership role.
Safe to say, Shannon has liked what he's seen out of his senior cornerback.
"He's really done a fantastic job for us of handling the young guys… he's consistently and constantly talking to the young guys on the sideline about focusing on the little things, which is big in playing football."
Injury Update
Shannon said that Elijah Conliffe and Jachai Polite both practiced some this week. Malik Zaire and Kadarius Toney did not practice, and Zaire is probably out for the game.  Shannon said defensive back Jeawon Taylor is likely out for Saturday's game as well.