Steve Spagnuolo's first decision as interim head coach for the New York Giants was to return 13-year veteran Eli Manning back into his starting role at quarterback. Manning sat out last week due to now ex head coach Ben McAdoo's decision to start Geno Smith, and end Manning's 210 game streak of consecutive starts at quarterback.
Reporter: "Eli care to comment on the firing of coach Ben McAdoo and GM Jerry Reese?"

Eli Manning: pic.twitter.com/O0ejK2qnGR

— Steve Angelovich (@angelsteve89) December 4, 2017
New Sheriff in Town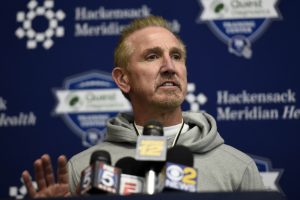 Spagnuolo announced his decision in his first press conference as interim head coach on Wednesday. The ex-defensive coordinator has had previous experience standing behind the podium when he managed the head coaching position for the St. Louis Rams back in 2009-2011.
Spagnuolo had this to say, according to sbnation.com:
"Why Eli? All I can tell you is this. When John Mara and I talked, one of the first things he asked was about the quarterback situation and I said, 'John, my gut right now is that Eli should be the starter,'" Spagnuolo said on Wednesday.
Spagnuolo also mentioned that he never focused on the problems on the offense, so he determined the starting role with his "gut":
"What you have to understand is when I was coaching just the defense, I had the blinders on and all I'm worried about is the defense. I stay in my lane. So, I didn't have my eyes around what was going on on offense – who was playing what. None of that," Spagnuolo said. "So, I took my gut and visited with the offensive coaches and together with that and my gut, Eli Manning is going to be our quarterback."
Facing Reality
Standing at a record of 2-10, the Giants' fan base wanted Manning back in the starting lineup badly. Especially now when they host long time rivals the Dallas Cowboys in week 14.
Manning was emotional when he heard the news break out about him losing his starting role to Geno Smith in last week's match up against the Oakland Raiders. So, after hearing he got his starting role back, he immediately confronted Spagnuolo to let him know he wants to play, according to northjersey.com.
"I just wanted him to know that I do want to play. I want to be the starting quarterback," Manning said. "So, I'm happy that he went with that decision and he has the faith in me, we can go win this football game with me as the quarterback."
Next game will be focused on thanking Manning for the most part on his career accolades, and deservingly so. In his 13 years, Manning has won two Super Bowl titles against the Patriots both times. The Giants have been the only team to defeat Tom Brady and the New England Patriots in the Super Bowl with Manning playing a huge part in winning both titles.
"As far as Coach McAdoo being fired, I think it was long overdue."@TeamVic opens up about the firing of Ben McAdoo and benching Eli Manning pic.twitter.com/uzkl33Ryta

— GMFB (@gmfb) December 5, 2017
The Real Issue
Many assume that Manning has fallen out of the conversation as a franchise quarterback. Averaging career lows in attempts, completions, total yards, average yards per play and touchdowns since his rookie season, according to nfl.com.
With assumptions lurking, there's been rumors that Manning could be out of a Giants uniform sooner than expected. The Giants season has gone downhill once their key offensive players like Odell Beckham, Brandon Marshall and Dwayne Harris were ruled out for the season.
Although Spagnuolo has Manning starting against the Cowboys, he hasn't committed to a long-term decision yet, according to bigblueview.com.
"Well, Mike (Sullivan) and I the offensive coaches will talk about that as we go. The number one focus right now is to figure out a way to beat the Dallas Cowboys…" Spagnuolo said. "…Each week we'll talk about those other things, but right now, in the midst of everything that's going on with the changes and what not, little tweaks here and there, the focus is still going to be to beat the Dallas Cowboys."
Game Time
Who: New York Giants v Dallas Cowboys
Where: MetLife Stadium, East Rutherford, New Jersey
When: 12/10, 1:00 PM EST
Watch: FOX, with Kevin Burkhardt and Charles Davis