Who is Jhonny Victor?
Johnny Victor, a redshirted Track and Field Jr at the University of Florida. Has had one outstanding athletic journey being a Gator. Victor, who is from Homestead, Fl but raised in Orlando FL found that he was a leaper in high school. Johnny did both basketball and track all throughout high school career.
High School Journey
Victor first time figuring out that he was gifted with the ability to jump was during his JR year of high school. All throughout high school he played different type sports tried everything such as basketball and football. Played football for two years in high school and achieved "all county receiver". For the most part, he focused on basketball which led him to the amazing track athlete he is now. In high school basketball season always started in the middle of the year. Before the season every athlete needed to partake in some type of conditioning.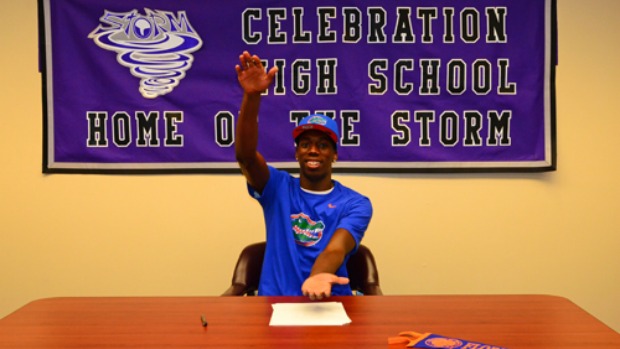 The head coach of the basketball team made his kids do track or cross country. With taking the route of doing track due to the hate of running a lot, he was able to find what he was destined to do throughout his college years.
 First Go-Around
Jr year of high school was the year when his coach noticed that Victor had the special leaping ability which made him suddenly take the sport more seriously. Victor was well known around his county for being one of the most dominant high jumpers. It was only a matter of time before he got noticed by colleges for his athleticism. Victor was undefeated in all of his high school meets as a junior and senior, until reaching states. Some of his biggest accomplishments during this time in his career include coming #1 in popular meets such as the Florida Relays and the Walt Disney World Invitational.
Victor's continuous success throughout high school led him to receive multiple Division I scholarships that would eventually take his jumping to the next level.  Victor decided that he wanted to stay close to home to continue his career, making his college decision easy. With a 4.0 GPA and multiple accomplishments under his belt, Victor chose to attend the University of Florida where he is currently enrolled as a red-shirt Junior.
Successful Start
Victor began his college career the same way he ended his high school career, with trophies. As a freshman in 2015, Victor came 7th in the SEC Outdoor Championship where his team would ultimately win the whole thing, making his freshman year an overall success. During the offseason, Victor was eager to bring his basketball talents back onto the court. He would walk-on to the UF Men's Basketball team in 2015 before the start of his Sophomore season. When the basketball season came to an end Victor unlaced his sneakers and jumped back into his spikes, making him the only two-sport athlete at that time.
Minor Setback 
Unfortunately, after completing the basketball season in 2016, Victor would have to stay off the court and the track for 6 months due to an injury. During his opening meet of the Outdoor track season, Victor tore his ACL trying to clear a jump. This made Victor's mindset change from competing to recovering in order to come back in 2017 better than before.
Major Comeback
On the off-season of his training, he then on changed his mindset and came back stronger for his following season. He worked harder and stronger on his techniques, to be able to be one of the top contenders in his competition. He then on competed in regional where is when he later found out that he was qualified to attend Nationals. That is when the pressure was on for Victor where everything he has tried for and prayed for is in his face.
Since his Junior year of high school, Victor and his coaches knew that he was a special athlete. All of his accomplishments from that point on just prove the unique athleticism Victor embodies. Although he had to face something that no athlete wants to go through, his bounce back shows the resilient character that has made him become a National Champion. With one more year left of eligibility, Victor has the opportunity to continue his success and compete to win back to back championship and the road to victory.
Achievements
NCAA National Champion 2017
SEC outdoor /indoor Champion
Feb 17: Jhonny Victor, SEC Men's Freshman of the Week
Finished eighth at SEC Outdoor Championships (high jump)
2015 All-SEC Indoor and Outdoor Freshman Team (high jump)
2017 USTFCCCA Outdoor All-American (high jump)