The Hawthorne Hornets traveled to Gainesville to take on the Eastside Rams. The Hornets were coming off a four-game winning streak while the Rams were coming off a victory over the Santa Fe Raiders.  The visitors came away with a 67-59 win.
Hawthorne looked to be two steps ahead
The game was a close, back-and-forth affair to start. But then the Hornets started to flex their muscles and looked like the better team. Their passes were crisp and they converted on many of their attempts. At one point, they were up by double digits, 27-17. However, just when it looked like the Hornets were going to run away with it, the Rams clawed their way back into the game.
Rams keep things interesting
Led by guard Jimmy Johnson and big man Keanis Smart, Eastside started to match Hawthorne's intensity. Energized by a raucous crowd, the Rams showed fight as they mounted a comeback. After a pair of free throws made by Anthony Richardson, the Rams eventually found themselves down by only three to the Hornets 27-24. Hawthorne entered halftime up by only one 32-31.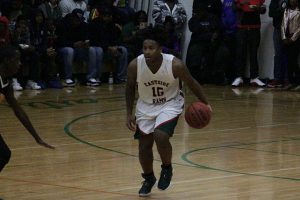 Game continues to be tight in the second half
The Rams and Hornets continued to trade scores in the second half of the game. The Hornets once again looked like they were going to pull away as they were up 47-38, but the Rams refused to go away. Eastside clawed its way back in and after Johnson made a three to put the Rams down by only two, two free throws were made to tie the game at 47. Devin Lawrence then hit two free throws to put the Hornets back up 49-47. But Johnson followed that up with a long two to tie the game. That would be the last tie of the game as the Hornets went on to win 67-59.
This free throw tied the game at 47. pic.twitter.com/s6llPz1qnH

— David Street (@dstreet177) January 14, 2018
Individual performances
For Hawthorne, Lawrence was the star with 34 points. For Eastside, Johnson led the way with 16 points.
Interview with the winning coach
After the game, Hawthorne head coach Greg Bowie gave his thoughts on his team's performance.
What's next?
Hawthorne will travel Thursday to take on the Crescent City Raiders at 7:30. Eastside will travel to Citra Tuesday to take on the North Marion Colts at 7:30.