The University of Arkansas men's basketball team faces the Florida Gators Wednesday night for their fourth road game. Both the Razorbacks and the Gators are 12-5 this season, although the Razorbacks are yet to win an away game.
History
The Razorbacks have lost 12 straight games in Gainesville. But on Wednesday they have a chance to snap a seven-game losing streak to Florida. The Razorbacks are hungry for their first conference road win of the year, especially after winning six SEC road games last year. Arkansas finished third in the SEC last season, with a 26-10 record, in which two of the 10 losses were to Florida.
A Bumpy Start
Razorback defense has allowed teams to put up major points on the board. Arkansas allowed the Tennessee Volunteers to score 93 points against them, and Oklahoma scored 83.
University of Arkansas Director of Basketball Operations, Matt Zimmerman says the Razorbacks must improve on their defense in order to beat the Gators.
On Saturday, Arkansas not only defeated SEC rival Missouri, but defense only allowed them to score 63 points. This was the lowest score they allowed since the Razorbacks first game when they beat Samford University 95-56.
Zimmerman says he believes Arkansas defense is improving.
"So far this year, they are 0-3 on the road, and Florida is a tough place to go in and think you're gonna get your first win," Zimmerman said. "But that's what the Razorbacks are faced with."
Wednesday's Game Plan
The Razorbacks who average 85 points a game have struggled their past four games. Only scoring 65, 54, 77 and 75 points against SEC teams. Zimmerman says the team is most successful when they utilize three Senior guards: Jaylen Barford, Daryl Macon, and Anton Beard.
"Jaylen Barford is the only player in the SEC to rank in the top three in points per game (3rd) and field goal percentage (3rd)," according to ArkansasRazorbacks.com. "Daryl Macon is one of two players in the SEC with four games of 8+ assists this season. In those four contests, he has totaled 32 assists and just six turnovers."
But Zimmerman says freshman Daniel Gafford is probably Arkansas' best player.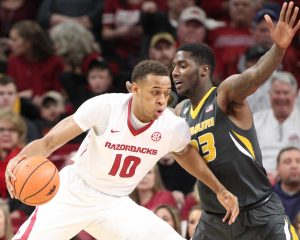 Arkansas plans to capitalize on their star players Wednesday. Zimmerman says they must shoot better when at the line.
They make 67 percent of their free throws.
How to Watch
Opponent: Florida (12-5, 4-1 SEC)
Date: Wednesday, Jan. 17
Site: Exactech Arena (Gainesville, Fla.)
Tip-off: 7 p.m. ET
TV: ESPN2 | WatchESPN