Mark Fox's Georgia Bulldogs (11-5) travel to the Pete Maravich Assembly Center in Baton Rouge to take on Will Wade's Bayou Bengals (11-5) as part of ESPN's Super Tuesday lineup.
Both teams will look to bounce back from weekend home losses as Georgia fell to South Carolina in Stegeman Coliseum and LSU dropped its matchup against Alabama.
https://twitter.com/LSUBasketball/status/953345995114414080
Junkyard Dogs
Georgia boasts the third best scoring defense in the SEC as they allow 65 points per game. It will be tested Tuesday night against an LSU offense led by Tremont Waters that averages over 81 points per game, which is good for fourth best in the SEC.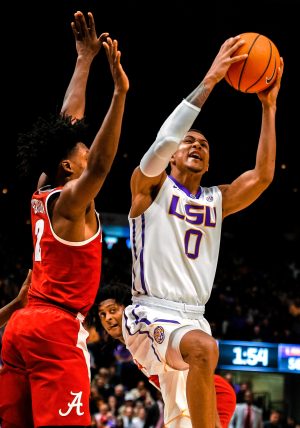 Meanwhile, Georgia averages almost 71 points per game. That is good enough for dead last in the conference. But, the Bulldogs could have an advantage when it comes to rebounding.
Mark Fox's team averages almost 41 rebounds per game (No. 3 in the conference) and ranks in the top five for both offensive (12.3) and defensive (28.5) rebounds per game. Meanwhile, the Tigers rank among the bottom teams in all of those categories.
LSU coach Will Wade said the team's lack of rebounding could stem from the players not keeping it in the front of their minds.
"When it is front of mind you hit somebody, block them out, and secure the ball," Wade said.
Battle of Top Scorers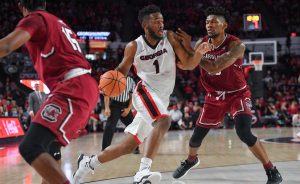 Georgia's Yante Maten leads the SEC in scoring at 19.6 points per game while LSU's Tremont Waters is good for No. 4 on that list with this 16.9 points per game.
These two talents rank among the top in the conference in other categories too. Maten leads the SEC in rebounding per game (8.9) while Waters leads the conference in assists per game (6.1) and steals per game (2.3).
Will Wade said teams are trying to limit Waters's touches and will make it harder for the player who he says is a major part of his team's offense.
"We need some other guys to step up and make some plays, make some things happen when they do everything they can to keep the ball out of his hands and make it very, very difficult and tough for him," Wade said.
Mark Fox's only other double-digit scorer is William "Turtle" Jackson II at 10.1 points per game.
Meanwhile, LSU hosts a trio of players averaging double digits besides its stud freshman point guard: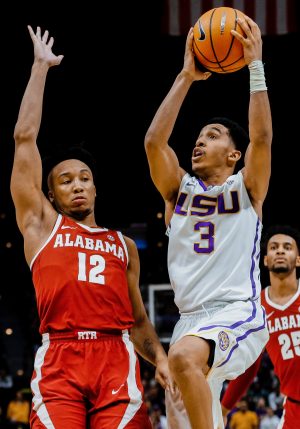 Duop Reath – 12.4 ppg, shooting 57 percent on the year
Skylar Mays – 11.7 ppg, second on team in steals
Aaron Epps – 10.7 ppg, shooting 55 percent on the year
What This Means for Both Teams
A win for Georgia would give the Bulldogs their first road conference win of the year while an LSU win would give the Tigers their first conference victory at home.
LSU could push itself over .500 in the conference with a win and Georgia would find itself at .500 in the conference with a win.
A Georgia loss would certainly make their road to the NCAA tournament bumpier and an increase their likelihood for an NIT slot instead of the tournament bid that Georgia was pegged to receive this year.