The Orlando Magic halted a seven-game skid by defeating the Minnesota Timberwolves 108-102. Evan Fournier led the way with a season-high 32 points, while D.J. Augustin added 18 points, 6 rebounds, and 6 assists off the bench. Jimmy Butler led the charge for the Timberwolves with 28 points, 7 rebounds, 4 assists, and 5 steals. The loss snapped Minnesota's five-game winning streak.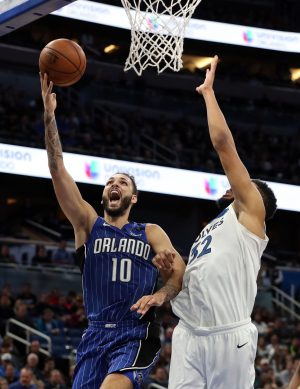 The Magic and Timberwolves have been on completely different paths this season. After starting the season 8-4, the Magic have lost 27 of their last 32 games, including 16 of their last 18. They have the second-worst record in the league at 13-31. The Wolves have won 12 of their last 16 games and are currently the fourth seed in the Western Conference.
Dominating the Interior
The Timberwolves have one of the best young big men in the league in Karl-Anthony Towns, but the Magic dominated the paint in this contest. Bismack Biyombo and rookie Khem Birch combined for 22 points, 26 rebounds, and 9 blocks. On average, opponents out-rebound Orlando by 4.1 rebounds per game. This is the second worst rebounding differential in the NBA, only in front of Dallas. This was not a factor on Tuesday night as the Magic severely out-rebounded the Wolves 62-46.
Minnesota head coach Tom Thibodeau praised the play of Biyombo and Birch.
"Biyombo is a very hard-playing guy and Birch hurt us, so the rebounding was problematic."
He went on to criticize his team for getting significantly out-hustled on the glass.
"I thought we were in position to win but if you don't rebound the ball, you're putting yourself in a big hole."
Cheap Shots
Magic guard Arron Afflalo and Timberwolves forward Nemanja Bjelica we're both ejected for fighting in the second quarter. Both players had been very physical with each other since the start of the game. They each received a technical foul only four minutes prior to the fight. Afflalo clearly took a cheap shot at Bjelica, who seemed to be trying to defend himself and de-escalate the situation by putting Afflalo in a headlock.
"I don't want to feel like a victim here, that's part of the game, but he took a swing at me, and I was just trying to protect myself, first of all, and to calm him down because he was wild."
WHOA! Bjelica and Afflalo fight! pic.twitter.com/KS0tWTuhGl

— Michael Gallagher (@MikeSGallagher) January 17, 2018
It's likely that both players will be fined for the incident.
What's Next?
The Magic look to extend their winning streak to two as they take on the struggling Cleveland Cavaliers on Thursday night at 7:00 p.m. Minnesota looks to bounce back from a disappointing loss as they face the Houston Rockets on Thursday night at 9:30 p.m.