On Tuesday, the Mississippi State Bulldogs will host the Vanderbilt Commodores in SEC men's basketball action.
https://twitter.com/VandyMBB/status/952931557664284672
Both teams are currently on a three-game losing streak, so this game will be an immense opportunity for the two teams to turn things around.
Commodores and Bulldogs on the Offensive Side
The Commodores currently have an overall record of 6-11 and are 1-4 in SEC play. Vandy's most recent match was a loss on Saturday against Kentucky, 74-67. Senior Jeff Roberson has been a key player for the Commodores. During Saturday's game, Roberson locked in 20 points for Vandy. He is currently the leading-scorer for the team averaging 15.1 PPG and 7.8 RPG. In addition to Roberson, senior Matthew Fisher-Davis (11.9 PPG), freshman Saben Lee (11.2 PPG) and senior Riley LaChance (10.9 PPG) all average in the double-digits.
J ROBE WE SEE YOU pic.twitter.com/1AtbTtCHDj

— Vandy MBB (@VandyMBB) January 13, 2018
Meanwhile, Mississippi State is currently 13-4 overall this season and are 1-3 in SEC play. On Saturday, the Bulldogs lost to the Auburn Tigers 76-68. Junior guard, Quinndary Weatherspoon was able to secure 14 points for Miss. State against Auburn. Weatherspoon has consistently led the Bulldogs in scoring, averaging 14. 4 PPG. Some other lead-scorers for the Bulldogs are freshman Aric Holman (11.8 PPG), and freshman Nick Weatherspoon 11.0 PPG.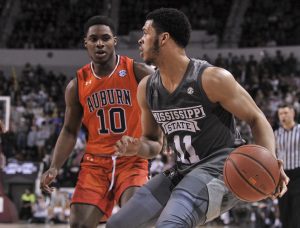 Which SEC team will snap the losing streak?
Vanderbilt has a strong top of the roster but the team struggles to get their bench involved. The team has a pattern of giving-up points, even when they win. This kind of permissive defense would allow for their opponents to steal games even when the offense is playing its best. As for Mississippi State, the Bulldogs have recently faded as they have faced tougher competition. If Mississippi State can pull themselves together, they have a chance of snapping their losing streak.
Game Details
Game time is set on January 16th. Tip off begins at 7 p.m at the Humphrey Coliseum.