After a breakout sophomore campaign, KeVaughn Allen was expected to be a premier player in the country heading into the 2017-18 season. Allen was named to numerous preseason award lists. This list includes First Team All-SEC, the Jerry West Award Watch List, Oscar Robertson Award Watch List and the Citizen Naismith Trophy Watch List.
Unexpected Decline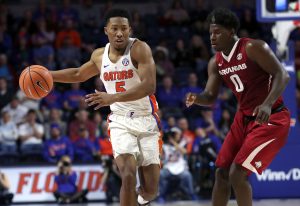 The Little Rock product has severely under-performed expectations throughout the first half of the season. As a sophomore, he posted a team-high 14.0 points including 37% from beyond the arc and 44% from the field. His offensive output has dipped significantly this season. He is averaging 10.3 points (lowest in his Gator career), while shooting 29% from the three and 35% from the field.
It was assumed Allen's scoring prowess would grow exponentially because of the additions of Egor Koulechov and Jalen Hudson, two top-notch scorers. This was supposed to take a lot of the pressure off of Allen and give him more uncontested opportunities to put the ball in the basket.
Part of this decline can be attributed to the fact that the Gators only have one true point guard on the roster in Chris Chiozza. This forces Allen, who is a prototypical shooting guard, to run the point more often than usual.
Breakout Performance
After four straight games of posting single-digit scoring, Allen broke out of his scoring slump to put up a season-high 28 points on 8-12 shooting, including 6-7 from beyond the arc in a win against Arkansas on Wednesday night. The Gators will need nights like this from Allen to vault back into the national spotlight.
Oh, how I've missed this out of KeVaughn Allen. pic.twitter.com/GXtNH18B1q

— InAllKindsOfWeather.com (@AllKindsWeather) January 18, 2018
After the Arkansas game, Allen spoke about how his teammates have been continuing to instill confidence in him.
Head coach Mike White went on to describe how much Allen's big performance means to the team as a whole.
White's Confidence in Allen
Mike White has received questions all season about Allen's decreased performance. However, White has never seemed worried about Allen's execution.
"[Allen's] A secondary handler. A guy that teams have to prepare for, again as a guy who is capable of getting 35, not only in a bye game at home against a low major but in a Sweet 16 game. He's going to continue to be a focal point. Teams have to prepare for him. He's overly unselfish right now. I've talked about it a ton, I tell him every day, his teammates tell him. But he's really taking care of the basketball, he's making good decisions, he's a much better decision-maker, play-maker than he was a year ago. So, he's progressing in those areas. And he's still progressing defensively."
Mike White has another theory as to why Allen's production has decreased this season.
"KeVaughn is a kid, he's really unselfish. I've seen it since the first day I coached him, he's a good teammate and when he misses a shot he feels bad for his team that he missed a shot as much as any really talented player that I've coached. It's hard to get him out of that, to get him to be a conscious-free, aggressive, attacking guy."
Allen is still a vital piece for the Gators. His impact cannot be underestimated, even when he's not actively scoring the basketball. When he's being aggressive and his shots are falling, the Gators are an elite team. After all, there's a reason why he was a preseason First Team All-SEC player.
With his last bucket, K5 has passed @Al_Horford on the #Gator all-time scoring list:

Now has 1,124 points in his career ⬆️⬆️#OneTeam pic.twitter.com/gx7MNWkcMM

— Gators Men's Basketball (@GatorsMBK) January 18, 2018