UFC women's bantamweight champion Ronda Rousey has signed on as a full-time professional wrestler with the WWE.
The announcement came at the end of the first-ever women's WWE Royal Rumble match Sunday night. Rousey entered the ring to Joan Jett's "Bad Reputation" as Rousey's name appeared on the screen.
A Long Time Coming
Rousey's switch to the WWE has been hinted at for a while now. March 2015 was her first appearance in the WWE when The Rock brought her into the ring from the front row during WrestleMania 31.
"It's funny — it's kind of like acting, in that it was something I always wanted to do but I never thought was in the cards for me," said Rousey.
Now that she realizes this opportunity is actually real for her, she says the little kid inside of her would kick herself if she didn't take advantage of it.
Rousey's ties to the WWE run even deeper. Not only is she a lifetime fan, but she inherited her nickname from professional wrestler "Rowdy" Roddy Piper. Piper approved the nickname through "Judo" Gene LeBell, who trained both Piper and Rousey.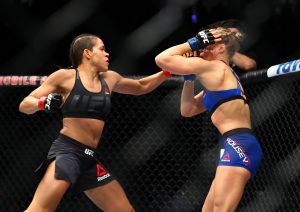 Rousey's Impact
Since she entered the MMA world, Rousey has had a significant impact not just on the sport, but on society as well.
Her first twelve professional fights were staggeringly one-sided as she worked her way to becoming the Strikeforce and UFC women's bantamweight champion. She won five of her first six UFC fights in the first round, with four of those lasting just one minute and six seconds or less.
However, Rousey lost the last two fights of her career to Holly Holm and Amanda Nunes.
Still, UFC President Dana White gives Rousey great credit for the expansion of the sport. Since Rousey started out, the women's bantamweight division has grown to four women's divisions in the UFC.
With all of Rousey's success as a fighter, she became a pop culture figure in society. This included hosting "Saturday Night Live," appearing in a variety of TV shows and movies, and being featured on the cover of magazines in the world, like the 2012 ESPN The Magazine Body Issue.
But regardless of past success and failure, it's safe to say Rousey is excited for this new career move.
"I'm so happy and I don't have words for it — and I usually have words for everything; This never happened before," said Rousey.