Mississippi State is headed to Missouri for a rematch against Mizzou Saturday at 2 p.m.
The Bulldogs were successful last time out, beating the Tigers 74-62 at home.
Now the visitors, Mississippi State comes into the game with the better record at 18-6; however, they have only won one of six games on the road. Mizzou is 16-8 on the season, with a 10-2 record at home.
https://twitter.com/MizzouHoops/status/961981684630671361
Previous Meeting
When MSU hosted Missouri in late January, the Bulldogs held the Tigers to 62 points; much lower than the 73.6 points per game the Tigers have averaged this season.
MSU Hot from the Floor
The Bulldogs shot 54.7 percent from the floor. After the first half, the game was tied 31-31. MSU was shooting 42.31 percent, and it looked like anyone's game. However, the Bulldogs came out firing in the second half, scoring 66.67 percent of their attempts.
Quinndary Weatherspoon led the way with 20 points, shooting 7-9 from the field, including 2-4 from three-point territory. Younger brother Nick added 12 points of his own, as did Abdul Ado.
Mizzou Struggle to Score
The Tigers turned the ball over 19 times and only were able to assist a scorer on 11 occasions. While the Tigers shot over 45 percent from the floor and grabbed 12 offensive rebounds compared to the Bulldogs' five, they were unable to put enough points on the board.
Kassius Robertson led the way for the Tigers, scoring 20 points from 8-14 shooting. Robertson made 3-7 from three and bagged four assists.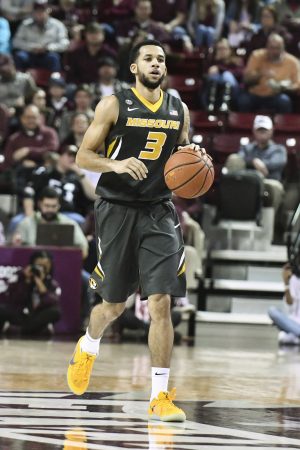 Main Threat for Mizzou
Robertson has led the way for the Tigers as of late, averaging over 21 points per game in the last three Mizzou wins. In his last game against Ole Miss, Robertson scored 27.
Robertson has been the main man for Missouri this year, averaging 16.4 points per game. The Tigers will need Robertson to continue his streak of performances if they wish to enact revenge upon MSU.
Game Details
The game will tip off at 2 p.m. and will be televised on ESPN2.