The Philadelphia Eagles are starting the 2018 season as defending Super Bowl champions, and there is no doubt that the Eagles had a great season. Finishing 13-3, first in the NFC East and a Super Bowl win.
But that isn't enough to fuel them through this new season. They'll be looking to get better.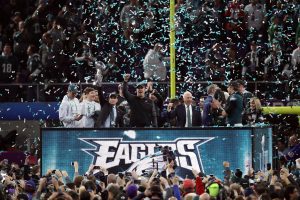 Moving On
There's no time to reflect on the past. Not taking away from the tremendous accomplishment of the team, in an interview with Eagle's executive vice president of football operations, Howie Roseman, says it's time to get back to work. "We have 31 other teams that are gunning for us."
The Eagles are starting their offseason by putting a better team together. With hard work comes challenges and the Eagles are well aware of theirs. "We don't have the same cap situation as a lot of teams in the league right now, we don't have the same draft picks as a lot of the teams in the league, so we're challenged and we know that," says Roseman.
Howie Roseman was asked if the Eagles intend to keep Nick Foles…

"Our intention is to keep our good players." pic.twitter.com/2b4ddY9W5Y

— NBC Sports Philadelphia (@NBCSPhilly) February 28, 2018
Can't Just Bring the Band Back Together
The Eagles aren't relying on old rhythms to coast them through the new season. Instead, they are focusing on giving the coaching staff better opportunities. They're also looking to keep athletes healthy and push them harder than they did before.
"We're going to come here and start our offseason and try to do whatever we can to put a better team together," Roseman said.