Former Florida Gator all-SEC receiver Antonio Callaway is preparing for the NFL draft.
Despite concerns over his character, NFL general managers are attracted to Callaway's playmaking abilities on the field. Regardless, these teams have not forgotten the many scandals and immaturity displayed by Callaway off the field.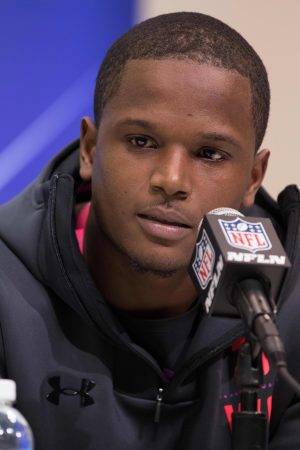 Trouble Off the Field
Callaway spent his freshman, sophomore, and junior years at the University of Florida. During this time, his run-ins with the law began.
Callaway faced a sexual assault trial during his freshman and sophomore years. He was cleared of the charges before the season in 2016. For his defense, Callaway admitted he had been "so stoned" and therefore wasn't looking to have sex with anyone.
In July 2017, he was charged with possession of marijuana. Following that, he was involved in credit card fraud, costing him the rest of his collegiate career. Rather than calling it quits, he declared for the 2018 NFL Draft.
Moving Forward
Now, Callaway is a father. He has high hopes that a NFL team will put their trust in him.
Desperately looking for a second chance, when asked if he believed people can look past his mistakes, he responded "somebody has gotta believe in me." From what he says, being "taken away from the game [he] loves" showed him how much he loves it.
Now having a young girl to look after, he strongly believes he has matured and moved on from his rough past. Consequently, he believes "I ain't got no choice but to make the right decisions." Many teams asked countless questions surrounding the incidents he is widely known for being a part of. The answers came all the same way. The NFL deserves the right to question his ability to completely stay out of trouble.
Has he earned a second chance?
The 2018 NFL draft held April 26-28 holds all these answers.