It seems as though the whole world is watching Tiger Woods right now. The 14 time major winner hasn't played in the Masters since 2015, but now he has the opportunity to make what is said to be the greatest comeback of all time.
2015 Masters
Woods finished in the top 20 at the 2015 Masters. On April 12, 2015, he walked off the 18th green as Rory McIlroy, winner of the preceding two majors, patted him. It was a disappointing finish for Woods, who placed outside the top 10 at Augusta for the fifth time since first winning in 1997 at 21 years old. It was also the last hole he ever played in the Masters.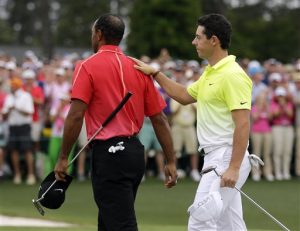 2018 Masters
It's no surprise that Woods drew a crowd as he practiced Monday. "The stands exploded, patrons giving the 42-year-old an ovation on the driving range. An entrance, and response, usually seen at Wrestlemania," Golf Digest reported.
On Tuesday Woods played with three-time Masters Champion, Phil Mickelson, 47. Together they have competed in 45 Masters, but they had never played a practice round together.
It's only Tuesday and it's just a practice round, but Phil & Tiger put on an absolute show this morning: https://t.co/YKep5DGC0a #theMasters pic.twitter.com/g3ZSSCKoMU

— Golf Channel (@GolfChannel) April 3, 2018
During a news conference Tuesday at Augusta National Golf Club, Woods said their friendship has gotten stronger over the years.
"We understand where we are in the game now versus where we were in our early 20's, battling for who's going to be number one," Woods said. "That was then and this is now."
Woods said his body is doing fantastic and he feels great.
"I feel like I've really put a lot of the pieces together. We've worked on what body parts to get stronger, what body parts needs to get more limber," Woods said. "I feel fantastic. Its now a matter of now going out there and competing and playing, and posting numbers."
https://twitter.com/GolfChannel/status/981222712440967169
Woods tees off at 10:42 AM Thursday for the opening round. He is paired with Marc Leishman and Tommy Fleetwood.
Tee times are out for #theMasters

Find out who Tiger, Rory, Phil and defending champ Sergio are grouped with here: https://t.co/vxRAS9IzAd #theMasters pic.twitter.com/yFk8Zkxe4T

— Golf Channel (@GolfChannel) April 3, 2018