A pair of runs in the first, fifth and seventh innings allowed the Florida softball team (33-5, 8-2 SEC) to cruise to a 6-1 victory over Alabama in a top-15 match up in Tuscaloosa on Saturday.
Adding On
Florida jumped out to an early 2-0 lead in the top of the first on a Hannah Adams single to right and an Aleshia Ocasio infield fielder's choice.  The Gators continued to pick up base runners in each of the next three innings but weren't able to push another run across the plate until the fifth.
Amanda Lorenz led off the inning with a single to left field and the bases were quickly loaded after back-to-back walks to Kayli Kvistad and Nicole DeWitt.  Jordan Matthews then delivered an RBI single to right, scoring Lorenz. Ocasio followed with a sacrifice fly, extending the lead to 4-1.
The Gators' final two runs came in the seventh on Ocasio's second sacrifice fly of the game and an RBI single to left off the bat of Sophia Reynoso.
The Tide's Threats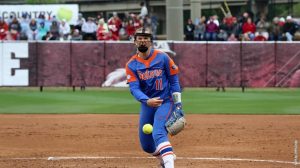 Florida held Alabama to just one run in the game, but there was potential for more.  Walks and an error made the game a little tougher on the Gators' defense and pitcher Kelly Barnhill.
Barnhill got herself into trouble in the second by allowing two base runners on a hit by pitch and a walk. She then committed a throwing error and the lead Alabama runner came around to score, making the score 2-1. Barnhill was left to deal with runners at second and third with only one out but was able to escape the jam.
The Tide threatened again in the fifth inning. After quickly retiring the first two batters of the inning, Barnhill gave up two walks and hit a batter. But with the bases loaded, she got Alabama's Reagan Dykes to fly out to center to close the inning.
Alabama put together one last effort to battle back in the seventh. They had runners on second and third with one out after a walk and a double. But Barnhill was able to retire the side on a foul out and her seventh strikeout of the game. Barnhill is now tied for third all-time in career strikeouts at Florida with 710.
https://twitter.com/GatorsSB/status/982715415812976640
Next Up
The Gators will take on Alabama again on Sunday for Game 2 of the series. Florida will look to continue to close the gap in the all-time series, which Alabama currently leads 36-34. Sunday's game will be at 3 p.m. and broadcast on ESPN2.