It's been said that the NHL playoffs are among the hardest in professional sports. And following a grueling 82-game regular season that saw them finish atop the Eastern Conference, the Tampa Bay Lightning are fully aware that every day — or, rather, day off — counts.
"I'm not one of those (coaches) to say 'oh yeah, let the series go seven and just keep playing,'" Lightning head coach Jon Cooper said. "We'll take the rest. … It's actually good to watch the other teams beat each other up for a little bit."
Beat each other up they did. Tampa Bay took their lumps in a five-game first-round series against the New Jersey Devils; but further up the Eastern Seaboard, an Original Six matchup between the Boston Bruins and Toronto Maple Leafs stretched a full seven.
While Boston slugged its way to a 7-4 victory Wednesday night, the Lightning spectated from home. With the East's top two teams vying for a spot in the conference finals, the decisive edge may rest with whoever can stay intact.
Hard knocks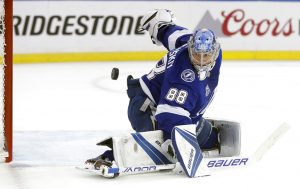 Through one round of playoff action, both squads are operating near full strength. If the regular season is any indication, things may soon change.
According to NHL Injury Viz, the Lightning compiled 136 man games lost over the course of the year. The Bruins, on the other hand, more than doubled that figure, registering 307.
Both clubs also differed in what portions of their lineups fell victim to the injury bug. The Lightning's top-six remained relatively intact: Outside of second-line winger Ondrej Palat, no skater picked up a knock that forced them to sit out more than four matches. Additionally, no member of their playoff defensive corps was shelved for more than six games.
However, no corner of Boston's roster was safe. From superstar centerman Patrice Bergeron to stay-at-home blueliner Adam McQuaid, nine regulars missed 16 or more games due to injury.
On paper, both teams are evenly matched: A single point separated them during the regular season, and they are within a half-goal per game of each other in postseason scoring and defense.
As they were against the Maple Leafs, the Bruins will be without the services of blueliner Brandon Carlo and winger Anders Bjork. And with two fewer games played and four more days of recovery, Tampa Bay may have the depth to outlast Boston.