The 1998 Florida Gator Baseball Team was honored on the field Friday night before the start of the Florida-Auburn game. The '98 team became the first team in school history to earn the number one seed at the College World Series. Some of the former players who showed up for their 20 year reunion included Brad Wilkerson, Josh Fogg, David Ross and coach Andy Lopez was also on hand.  A part of that team is pitcher Jeff Cardozo, who is currently a Gator baseball radio announcer and host of The Tailgate sports talk radio show.
Been an amazing day with the boys from way back when. This group of guys taught me so much and coach Lopez showed us all how to compete at the highest level! Coach said on air today it was the greatest team he ever coached @GatorsBB https://t.co/96QT44zYw2

— Jeff Cardozo (@JeffCardozoUF) April 27, 2018
'98 Season
With a 46–18 overall record and 21–8 in conference record, the '98 team was the regular season SEC Champions and the South I Regional Champions. While at the '98 College World Series, they lost to 8 seed Mississippi State 14-13 in the first round. Then in the loser's bracket, the team lost to Southern California 12-10. Southern California went on to win the championship that year.
Reminiscing Gators
The former players were excited to see their old teammates and relive their college days. Friday morning, many of the guys played a round of golf, and some got together to enjoy BBQ before Saturday's game.
We always love having #Gators come back to visit!

This group from 1998 was the first UF baseball team to earn the No. 1 overall seed for the NCAA Tournament. pic.twitter.com/1mRjb2sIiH

— Gators Baseball (@GatorsBB) April 27, 2018
Brad Wilkerson
One player in attendance was Gator Great Brad Wilkerson, who is a former Gator pitcher, outfielder, and first baseman. Wilkerson played at Florida from 1996 to 1998. He was a three-time First Team All-American and helped the Gators to two College World Series appearances. Wilkerson became the first player in college baseball history to hit 20 homers, steal 20 bases, and win 10 games as a pitcher. In 1998, he was awarded the Rotary Smith Award for being the Most Outstanding Player in College Baseball.
Wilkerson later went on to play big league baseball for the Expos, Nationals, Rangers, Mariners, and Blue Jays. In 2010, Wilkerson was inducted into the University of Florida's Hall of Fame and, in 2012, the National College Baseball Hall of Fame.
Wilkerson expressed how much he enjoyed being with his old teammates again.
Wilkerson praised last year's Gator baseball championship team, because he knows how difficult it is to accomplish.
He also revealed that his favorite college baseball memory was going to the College World Series in '96, where he hit a grand slam on his birthday against Florida State to knock them out of the tournament.
Josh Fogg
Also in attendance was former Gator pitcher Josh Fogg, who was a First-Team All American his senior year in '98. Fogg was also inducted in the University of Florida Athletic Hall of Fame in 2013. He also went on to play in the Majors with the White Sox, Pirates, Rockies, Reds and Rockies.
Fogg enjoyed meeting his former teammates' families.
David Ross
David Ross is one of the most well-known Florida Gators. Ross was a catcher at the University of Florida and was drafted in the 7th round by the L.A. Dodgers. He made his Major League debut in 2002 for the Dodgers. Ross went on to also play for the Pirates, Padres, Reds, Red Sox, Braves and Cubs. Ross won the World Series with the Boston Red Sox in 2013 and the Chicago Cubs in 2016. He retired shortly after the World Series with the Cubs.
Ross reminisced with current Gator coach Kevin O'Sullivan over Florida's championship win last year.
Coach Lopez
David Ross said that he was most excited to see his old coach, Andy Lopez, because of how he influenced his life.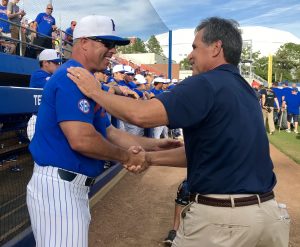 Andy Lopez coached at the University Florida for seven years and he was in his fourth year coaching at the school during the '98 season. When Lopez left the University of Florida he went on to coach at University of Arizona from 2002-2015. He retired in 2015, and is now a baseball analyst for the Pac 12 Network. In his free time, he mentors at-risk high school students.
Coach Lopez won two NCAA World Series Championships (Pepperdine in 1992 and Arizona in 2012), but said he wished he could have for UF. He was very happy for O'Sullivan and the team to win it all last year.
Home Again
Gator baseball fans came out to help honor the '98 team for everything they accomplished at the University of Florida. It was a memorable event for the former Gator players to be reunited and honored after 20 years.