No. 6 Florida lacrosse hosts the Big East Tournament, which begins Thursday.  The Gators lead the Big East and plays Marquette in the first game of the tournament.
Florida's 2018 Regular Season Play
The Gators won the last eight games of the season and those eight games were all against conference opponents.
Those last games helped Florida go undefeated in the Big East, allowing them to clinch the no. 1 seed in the Big East Tournament.
https://twitter.com/GatorsLAX/status/991481924593045506
Florida's three losses of the season came against ranked opponents and they never lost more than 3 goals.
Big East Tournament
Florida won the no.1 seed for the fourth consecutive season.  In tournament history, Florida has never lost.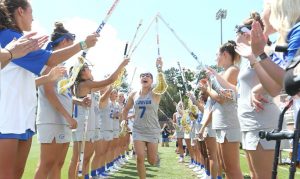 Thursday's game brings two teams together who've never met in the postseason.  However, Florida is undefeated against Marquette in the regular season.
There's never been a no.4 seed to beat a no. 1 seed in tournament history.
Gators Awarded for Their Hard Work
Seven Gators were named All-Conference:
First Team Honorees:
Haley Hicklen
Shannon Kavanagh
Shayna Pirreca
Sydney Pirreca
Lindsey Ronbeck
Cara Trombetta
Second Team Honorees:
Sabrina Cristodero
Key Players for Florida
Lindsey Ronbeck is a strong player for Florida, but she suffered a knee injury during the regular season.  Now, she is back with the team and ready to take another Big East title.
Some of her seasonal stats include 46 goals, 14 assists and 12 free position goals.
Sydney Pirreca is another strong player on the team.  In the last season, she had 44 goals and 44 draw controls.  Pirreca averages 2.78 goals against Big East opponents.
Florida vs. Marquette Match-Up
The Gators play Marquette for the first game of the Big East Tournament today.  The game begins at 4 and will air on Fox Sports Go.