Rightfully so, there have been numerous questions surrounding Florida's quarterback situation.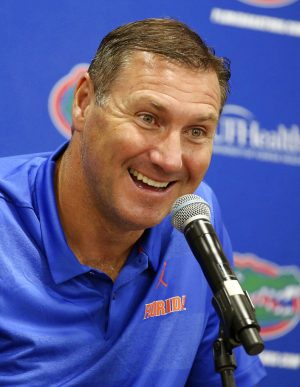 At UF Media Day on Thursday, head coach Dan Mullen said there is no timetable for when the starting quarterback will be announced.
Whoever does get the start on September 1st against Charleston Southern will have a lot of options at their disposal.
Along with the running back group having a lot of talent, Florida has solid depth at wide receiver as well.
Here is a preview of the Gators'  wideouts this season:
Grimes and Jefferson Cleared By NCAA
Before Mullen took the podium for his press conference, Florida received good news concerning two of their players.
The NCAA granted waivers to transfers Trevon Grimes and Van Jefferson, which gives them immediate eligibility for this season. Jefferson, who transferred from Ole Miss, will need a similar waiver from the Southeastern Conference before he can play.
Mullen shared his reaction to the news and where they are at with Jefferson's final step of the process:
https://twitter.com/Trevongrimes8/status/1025018624325480448
Although skilled players like Grimes and Jefferson provides additional competition, junior wide receiver Josh Hammond is excited to have them on the team.
Hammond, who was third on the team in receiving yards last season, said the two players will make the Gators better.
Emergence of a Leader
With Hammond being an upperclassman this year, he is looking to assume more of a leadership role on the team.
Hammond demonstrated his willingness to put the team first by saying his focus is on Florida's overall success, not the statistics he accumulates this season.
Surprise Players Who Can Have An Impact
Tyrie Cleveland figures to be one of Florida's top playmakers in 2018-2019.  Although he missed two games last year, Cleveland led the Gators in receiving yards and was second in yards per catch.
While Cleveland's production is expected, there are a couple of other players he said could make a difference. With the help of wide receivers coach Billy Gonzales, Cleveland said fellow junior Freddie Swain can have a breakout season.
Another player who could step up to the plate is Jacob Copeland, a consensus four-star prospect from the Class of 2018. Cleveland said that with the help of his fellow wide receivers, Copeland's development is still in the process.