The Tampa Bay Buccaneers put on quite the show at Raymond James Stadium Sunday afternoon when they defeated NFC rival and the defending Super Bowl Champs, the Philadelphia Eagles, 27-21. The Bucs may have had fewer first downs and less possession of the ball than the Eagles, but that clearly didn't matter.
With this win, the Bucs are now 2-0 on the season.
https://twitter.com/Buccaneers/status/1041425040514924544
Game Recap
It only took 11 seconds for the Bucs to get on the board in their home opener. Bucs QB Ryan Fitzpatrick connected with wide receiver DeSean Jackson on a 75-yard pass to put them ahead. After the early TD, possession volleyed between the Bucs and Eagles. One such possession for the Eagles came from an interception thrown by Fitzpatrick late in the first quarter. He intended to throw to tight end O.J. Howard, but the ball was snatched by Eagles cornerback Ronald Darby. Except, nothing came of the interception and Howard ended up redeeming himself in the second quarter.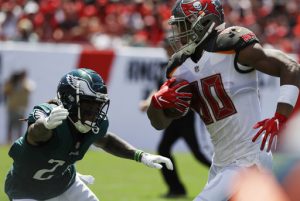 The 7-0 score lead held for the rest of the first quarter and well into the second. Then the Eagles put up some digits with just under five minutes left in the half. Now the game was tied up at seven apiece.
The Bucs didn't like that too much because 12 seconds later, Fitzpatrick threw ANOTHER 75-yard pass to connect with Howard to go ahead 13-7. Then late in the second Fitzpatrick passed to wide receiver Chris Godwin for another TD, making it 20-7 going into halftime.
Post-halftime, the Bucs and Eagles put up two more TDs each, but the reigning champs did not take home the W. Final score was 27-21.
Fitzpatrick or Fitzmagic?
Another impressive performance by Fitzpatrick, who now people are calling "Fitzmagic." In Sunday's home opener, he went 27 for 33, threw for 402 yards with four touchdowns and one interception. And two of his four touchdown passes were 75 yards.
But Fitzpatrick didn't take all the credit for his team's remarkable victory. He had a lot of praise for Jackson and his ability to take a simple pass and make it into a 75-yard touchdown.
Man of the hour. #GoBucs pic.twitter.com/28OM7KktNc

— Tampa Bay Buccaneers (@Buccaneers) September 16, 2018
Combined: In the last two games, Fitzpatrick has completed 48 of 61 passes, has thrown for 819 yards with eight touchdowns and one interception.
Jackon's Performance
Heading into this weekend, Jackson was still on the NFL's concussion protocol, according to ESPN.com and Peter Schrager of FoxSports.com. However, none of that seemed to phase him when he got in game mode. In addition to Fitzpatrick's high praise, Bucs head coach Dirk Koetter also had a lot to say about Jackson and the type of player he is.
"That was an unexpected start, but that is the kind of player…that's what DeSean Jackson brings to your team," Koetter said, "I mean he brings explosiveness."
Through two games, Fitz and @DeSeanJackson11 have connected nine times for 275 yards and three touchdowns, averaging an impressive 30.6 yards per reception.#GoBucshttps://t.co/bf4x2uzI1I

— Tampa Bay Buccaneers (@Buccaneers) September 16, 2018
In Sunday's game, Jackson had four receptions, including the first touchdown of the game, on 129 yards.
What's Next
A question that seems to be on most fans and analysts' minds is, could the Bucs go 3-0 without Jameis Winston?
That answer will come next Sunday when they play host to Ben Roethlisberger and the Pittsburgh Steelers. Game time is set for 8:15 p.m. with coverage on ESPN.