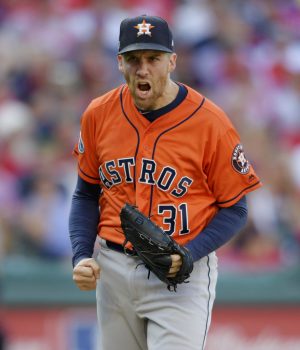 The defending World Series Champions, the Houston Astros, are heading back to the AL Championship Series for a second straight year. They completed a divisional sweep of the Cleveland Indians Monday with an 11-3 Game 3 win.
Astros Outfielder George Springer said what they accomplished spoke volumes about the talent of this Astros team.
"I think for our team to come in here and play our game against a very very great team over there, a quality lineup with a great staff," Springer said. "I think it says a lot about our team and what our team was able to do."
Homer City
Springer homered twice in the game and Carlos Correa hit a three-run homer for his first hit of the postseason. The team as a whole hit eight homers in the series.
Also, Springer has seen seven homers in his last seven postseason games. He joins some baseball greats, Lou Gehrig, Reggie Jackson and Carlos Beltran, for the best seven-game span in history. Springer also set an Astros record for most postseason home runs. He currently has 10 career postseason homers.
Indian Troubles
The Indians seem to always just miss the ball when it comes to the postseason. This is the second year in a row the Indians have been beaten in the first round – New York came back from a 2-0 deficit in 2017. Now they can only celebrate 71 years of not winning a World Series, the longest drought in the MLB.
The team was swept for the first time since the 1954 World Series. It's not hard to see why. The team was only hitting .144 and was outscored 21-6.
Indians shortstop Francisco Lindor, who gave the Indians their only lead in the game when he homered in the fifth, said the Astros deserve it.
"We got to continue to get better and we worked as hard as we could. They outplayed us, they outpitched us, they outhit us, they ran the bases better than us, hats off to Houston," Lindor said. "They have a great ball club and you gotta respect that. You gotta respect that they came out here and did what they had to do. They played way better than us all three games and they deserved to win."
Cleveland used Trevor Bauer as a reliever this series and his performance Monday was what really sealed the Astros victory. Bauer faced 10 batters and retired four of them. He's made five errors in his career and just in the seventh inning of Monday night's game, he had two.
Up Next
The Astros will try and continue their good fortune against the winner of the New York Yankees and Boston Red Sox series. The AL Championship series starts Saturday.