Jalen Hudson Ready For His Senior Year
The Florida Gators men's basketball  2018-2019 season is almost here and there will be some new faces and leaders on the team. Leading scorer Jalen Hudson is ready to take on the leadership role as he returns for his senior season.
Hudson who averaged about 15 points per game last year, declared for the 2018 NBA draft but withdrew from consideration to use his final year of eligibility. He stated that some unfinished business brought him back to Gainesville.
With the departure of star players like Egor Koulechov, and Chris Chiozza. It is up to Hudson to begin to lead this Gator team as they try to look for their third consecutive appearance in the NCAA Tournament.
"I'm ready to become a leader this team needs, I learned a lot from Egor and Cheese last year and they gave me some advice. Egor told me to be more vocal and Cheese told me to just think a play ahead, he was always far more ahead of people"
"Trying to be a guy they can look up to…It's one thing to say the right thing, it's another thing to do it." @JalenHudson5

We caught up with @JalenHudson5 & @mokauru_3 about the upcoming season. #GatorsHoop pic.twitter.com/vQWayZmQkz

— Gators Men's Basketball (@GatorsMBK) September 17, 2018
 Trying New Positions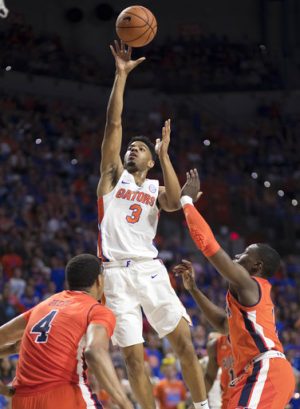 In order to become a leader you have to work harder than your teammates and help out in whatever position is needed. Going into this year head coach Mike White has Hudson running reps at point guard.
"I feel pretty comfortable, It not a super natural position for me but I don't mind playing it at all. It makes me into a play maker rather than a scorer and it helps get the other guys involved, it will definitely help me in the long run so I've been embracing it. I've been staying late, watching film and working with our assistant coaches, its something I'm excited for.
Team overall
Coming into this year some key players that will return for the Gators other than Hudson are Kevarrius Hayes, Keith Stone, and KeVaughn Allen. Also joining the Gators will be freshman five-star recruit Andre Nembhard form Ontario, Canada. According to Coach White "Andrew will come in and be hands down the best passer in the program. "
ESPN's reporter and analyst Dick Vitale has the Gators ranked at 24 in the preseason preview and believes the Gators will make their third straight appearance in March.
See y'all in November. pic.twitter.com/ieNJ2qob6i

— Jalen Hudson (@JalenHudson5) September 14, 2018