During the first three years of the 1990s, when the baseball trading card industry was at its hottest, it generated more than $1 billion annually. By 2017, that number fell to a chilly $200 million.
So says the Harvard Business School, and it raises some questions: What caused this decline? And how do sports trading cards fit into the digital age?
Jameel Mohammed thinks he has answers to both these questions. Originally from St. Louis, Missouri before going to the University of Florida, he opened The Meelypops Shop in 2014. While he acknowledges the brick-and-mortar aspect is less prevalent, he's heard these dire statistics. Mohammed said he has noticed that single-seller online transactions can't be measured — and that's how the entire industry works these days.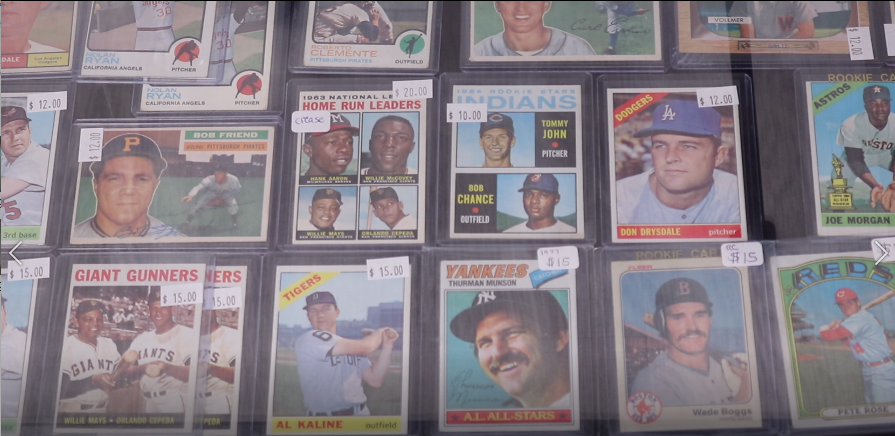 Breaking Cards
"I think what's happening with the world of cards is, it's being spread out," Mohammed said. "Maybe you have Joe Blow starting a breaking company out of his basement, and these figures aren't being reported correctly."
Breaking cards are extremely popular live videos of collectors opening rare packs. Some collectors or companies rack up hundreds of thousands of views doing this.
"If you're collecting cards this year, you may be involved in something through Instagram or Facebook," Mohammed said. "You may or may not have been to a card store or card show because that actually is becoming a thing of the past. You probably watched YouTube videos of an unboxing or a break or know what the word 'break' means."
Many collectors broadcast breaks live and the thousands of viewers that they can get prove the tradition's popularity.
Mohammed, who started selling online in 2009, made $250,000 collecting and selling in 2017 and has made The Meelypops Shop's biggest sales online.
Going Digital
"It's become a very digital platform, which has been great since it unites collectors all around the world," Mohammed said.
"There's a whole world of Instagram, high school, middle school and college kids who probably make a couple grand every month. It's there — these kids are smart. They pull up the eBay app. It's like stock market just for sports cards."
One of those kids is Bryan Williams. He is a student at Santa Fe College and views cards only as investments.
"Digital is also a big way of how I am able to invest," said Williams, who recently bought a rare Lebron James card for $1,000 and waited a few weeks before selling it for $1,200. "Everything is at my fingertips."
Williams said he searches for players on a bad stretch of play and buys low before selling them when their stock rises.
"Trae Young, about a month ago, was not as much as it is now that's he's played better and done better," said Williams, who buys and sells in-store but mostly uses the online market. "His stuff has gone up maybe 25 percent in value."
Niche Hobby
While there may be fewer fans collecting cards than before, it's become a die-hard niche for fans and investors. Bill Schmidt, a frequent customer of Meelypops and Gainesville resident, noticed the intensity and prices are much higher than in the previous decades he's collected cards.
"When you collected back then, it was more just fun and it was bubblegum," Schmidt said. "Sometimes the bubblegum was more important than the card, and sometimes the card was more important than the gum — depending on if you got your favorite player or not. Today, you have some that cost in the thousands of dollars."
Schmidt said he thinks that there aren't as many collectors as there used to be.
"However, those who are into it," he added, "enjoy it quite a bit."
Even though Meelypop's biggest sales happen online, the shop still gets plenty of visitors. On the last Sunday of each month, Mohammed holds a raffle for a full display case of packs, memorabilia and a jersey. Customers who buy a pack that costs $40 or more get entered.
Meelypops' other event, trading day, occurs the first Sunday of each month. Customers can trade and make deals for each other's cards. When the store fills up for these events, people talk sports and watch them. It's this community aspect combined with customers from all around the world that makes a card shop successful in 2019.
"I think the card shop will have its place," Mohammed said, however, he doesn't know how many card shops can survive and could see just one or two in every major city.
"It has changed," Mohammed continued. "I think kids have different ways to be entertained, but there's something tangible to opening a pack of cards and having your favorite player, pulling your favorite player, putting it into a case and knowing you have something of value. As compared to maybe digitally, you don't have that."