Two SEC Powerhouses clash in their last game of the regular season. At home, the No. 13 Tennessee Volunteers, and visiting, the No. 14 Arkansas Razorbacks.
Pig Sooie
Arkansas has slowly become the team that you fear sharing the court with. The Razorbacks have taken down every ranked opponent they have faced so far, including a miracle win against (at the time) number one Auburn. Pushing themselves to the top of the SEC standings, The Hogs have become a serious contender in college basketball.
Arkansas may not have the heaviest hitting defense, averaging only 4.2 blocks and 7.7 steals a game, but their offense is where the Razorbacks shine. Led by guard JD Notae with 18.8 PPG, Arkansas averages 77.4 points on their opponents. Notae also leads the team in assists, averaging 3.6 on the season. Jaylin Williams has been making noise in the SEC, recently setting the Razorback record for rebounds in SEC games, with 169 on the season.
https://twitter.com/RazorbackMBB/status/1499208275421589506?s=20&t=d2Npnms-NihfWbILHgCFEw
The Hogs have found a strong suit in fouls as well, with a 75.2% average from the line. Those extra points have been game changers for Arkansas, and could help the team pull away with another win on Saturday.
Rocky Top
Tennessee has been a force to reckon with this season as well. Also nearing the top of the SEC standings, The Volunteers have put on a showcase. The Vols have only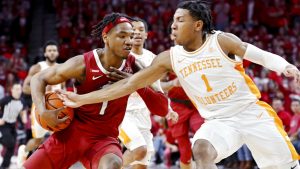 lost seven, with just four of those being SEC opponents. While Arkansas did defeat Tennessee at Bud Walton in February, The Vols are out for revenge.
Tennessee has had a fantastic offensive season, putting up an average of 73.5 PPG, lead by guard Kennedy Chandler with 13.6. Chandler also leads the team in assists and steals (4.6 and 2.3 per game respectively), making him one of The Volunteers' stars.
Josiah-Jordan James has been a tremendous help as well for Rocky Top, bringing in 5.8 rebounds a game, with 150 on the season. The 6'6″ junior has been a massive help on the defensive side, and will likely be a key factor in shutting down an electric Arkansas offense.
Tennessee will be continuing their "Checker the Stadium" tradition on Saturday, as a vital game in the SEC.
Check your section.
Find your color.
Dress accordingly.

→ https://t.co/ZiLwrLnlcX pic.twitter.com/d7ffcpwuLk

— Tennessee Basketball (@Vol_Hoops) March 4, 2022
The game tips off at noon on Saturday, Mar. 5 at Thompson-Boling Arena.