The NCAA women's tournament continues this weekend with the Sweet 16. The fourth seeded Tennessee Volunteers are taking on the first seeded Louisville Cardinals. Louisville is looking to return to the Elite 8 for their fourth consecutive year. On the other hand, Tennessee is looking to for their first appearance in six years. The game is set to tipoff at 4 p.m. Saturday.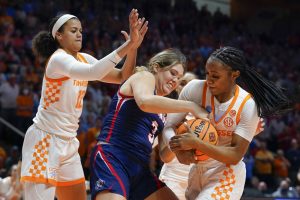 Louisville's Path to the Final Four
The Louisville Cardinals kicked off their tournament run with a 30+ point victory over Albany. They shot 52% from the field and took care of business handily. In the round of 32, the Cardinals were put to the test. They earned a 68-59 victory over the Gonzaga Bulldogs. Sophomore guard Hailey Van Lith led the way, finishing with 21 points. However, Louisville has a much tougher matchup this weekend, as they face a Volunteers team that finished third in the SEC for the regular season.
The Cardinals have a great chance of leaving this weekend's game victorious if they play the brand of basketball that has worked for them all season long. They are a high scoring team that has a dynamic offense in place. When they score over 61 points, Louisville is 24-1. Their offense is headlined by three incredible scores, including Kianna Smith, Hailey Van Lith and Emily Engstler. All three of these players are the only Cardinals to average double digit points for the season. Additionally, they are all regional finalists for the WBCA Coaches' All-America Team. If the ladies from Louisville can get their offense flowing early, they can expect a spot in the Elite 8.
https://twitter.com/UofLWBB/status/1507010095833624576
Volunteers Keys for Upset
The Tennessee Volunteers have had a great season overall in a tough SEC conference. They finished third with an 11-5 conference record. The Volunteers began their tournament run in the round of 64 with a victory over Buffalo. In the round of 32, it took a Sara Puckett go-ahead three to escape with a single digit victory over Belmont. Competing in their first Sweet 16 since 2016, the lady Volunteers are in for a huge matchup against one of the best team sin the nation in Louisville.
A player who has emerged as a focal point of this Volunteer team is Alexus Dye. Dye has accumulated four straight double-doubles in March, including both tournament games. In addition to Dye, Tennessee's leading scorer and rebounder has been Jordan Horston. Horston is averaging 16.2 points and 9.4 rebounds per game. On the defensive side, this Tennessee team has given up 60.6 points this season, while Louisville is averaging 72.4 points per game. If Volunteer fans want to see an upset tomorrow afternoon, Tennessee must have their best defensive performance of the year and big offensive performances from their star players.
https://twitter.com/LadyVol_Hoops/status/1507360668323885085
Sweet 16 to Elite 8: What's next for the winner
The winner of this big time Sweet 16 matchup will take on the winner of Michigan and South Dakota in the Elite 8 this Sunday. Finally, the NCAA women's tournament will finish off with the Final Four on April 1 and the National Championship on April 3.