Coming off a shutout district semifinal win over Eastside, the Oak Hall girls lacrosse team had their eyes set on the district title. Oak Hall (10-4) has historically dominated Lacrosse in the Gainesville area and is no newcomer to the spotlight. However, the Santa Fe Raiders (10-5) defeat of Gainesville High School made it their first district final appearance in school history. Two teams with completely different levels of experience would battle it out for the 1A District 4 Championship.
Fantastic First Half
The opening five minutes couldn't have gone much better for Oak Hall. They ran down the field with little resistance and scored goal after goal. The score was 6-0 before the 20-minute mark even hit.
Led by a nice trio of underclassmen, the Eagles' attack was simply unstoppable. Leila Simms, Sophia Moreschi and Harper Johnson contributed immensely to their success all season long.  Just as they did all season, they stopped goals from happening and created goals for their own team in this game.
After the first water break, it was 11-0 and clear that the direction this game was heading. Santa Fe did manage to sneak one goal in just before the half. At halftime, the Eagles led by a score of 15-1.
Halftime. Oak Hall is cruising as they lead 15-1. More to come pic.twitter.com/x42XSMo0iY

— Jake Bower (@Jbow2745) April 13, 2022
Second Half Surge
Once the running clock began, the game flowed much more evenly. One thing was on Oak Hall's mind the entire half: raising the trophy. They continued to be stingy on defense, but one thing stood out. They retained possession for almost the entire half. Instead of scoring goals, they decided to not risk giving up the ball. They saw the game through and ended the night as district champions! The final score was 20-3.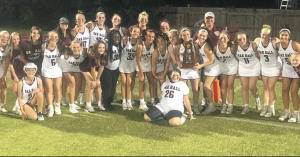 Next for Oak Hall
After a convincing district tournament, the Oak Hall girls lacrosse team will now advance to the regional playoffs. Their opponent as of right now is unknown. However, they will face a second-place team from another district as they were the winner of their own. The Eagles will move on in pursuit of a state championship!