The Oak Hall Eagles faced off against the Bronson Eagles on Thursday afternoon. The game followed a similar script to most of Oak Hall's matchups this season. The game stayed relatively close through two innings, Oak Hall takes over with a big third inning on offense and they eventually put it away in a mercy rule victory. By the time the dust had settled, Oak Hall had walked away with a massive 19-1 victory.
Neil Ruth had another outstanding performance on offense. He went 3-for-3 at the plate, stole three bases and drove in three runs. Jack Kuzmicki, Harrison Beach and Ethan Szlachetka each drove in two runs on the day. Beach's RBIs came from a triple for each batter. Kuzmicki drove in his two runs on a powerful single into left field, while Szlachetka drove in two runs on a line drive into center field.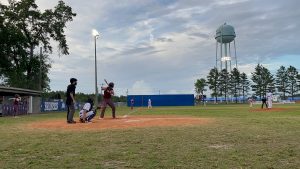 Troy Freeman notched his third triple of the season early on in the game. He also hit a sacrifice fly to drive in a run of his own in the third inning. Jackson Beach scored four runs on the day, while Freeman and Harrison Beach scored three runs each. Szlachetka secured his second win of the season on the mound. In four innings pitched, he only gave up two hits, one run (zero earned runs) and one walk. He also struck out six batters.
Getting Comfortable With Their Surroundings
Oak Hall entered Thursday's game facing an unusual scenario. They had already played Bronson earlier in the year when they took care of business in a 17-0 win. However, Oak Hall played host in their first matchup. This time, the game took place at Bronson High School. Additionally, Bronson held their Senior Night festivities prior to Thursday night's game. Bronson hoped to send their seniors out with a win, but Oak Hall played spoiler to the celebrations.
The first couple of innings did not feature too much action on either side. Jackson Beach led off the game with a triple, making it home on a sacrifice fly from Harrison Beach in the next at-bat. One inning later, Troy Freeman kicked things off in the exact same way. After blasting a line drive into left field that carried him to third base, Freeman was brought home on a sacrifice fly from Ruth.
Two innings down, and the Eagles lead 2-0. Troy Freeman knocked a triple into left field to get things started for the Eagles; he was brought home in the following at-bat on a sacrifice fly from Neil Ruth. pic.twitter.com/Vicye63TMd

— Jack Meyer (@jackmeyerespn) April 14, 2022
When asked about his approach at the plate, Freeman emphasized how he focuses on getting on base however he can. Considering his spot in the order, he always tries to find a way to knock in a solid hit that keeps the offense afloat.
"I usually just try to hit any of the little openings I get," Freeman said. "I'm always that hitter that has to get the guys in. Usually, it's two outs, so it's nice if I can just get a line drive every time. That's what I'm going for."
Meanwhile, Szlachetka took care of business on the mound in the first two innings. After giving up a single in Bronson's first at-bat of the day, Szlachetka responded the same way he has all season: he channeled his inner Hulk. And just like it has nearly every time he has taken the mound, it worked perfectly.
"I just did what I normally do, I just got angry," Szlachetka said. "I was throwing a lot of fastballs, but then, eventually in the second inning, my curveball started working, and so did my change-up. Adding secondary pitches really helped me out there."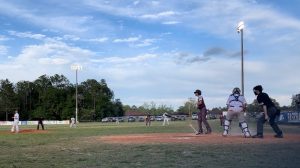 Szlachetka went on to sit down six consecutive Bronson batters over the span of two innings. While Bronson scored in the third inning off an Oak Hall error, Szlachetka put together another stellar pitching performance. After Thursday's game, his ERA now sits at 3.000 on the season.
All Gas And No Brakes In The Third Inning
Oak Hall began their Thursday night takeover in the top of the third inning. After three consecutive Oak Hall batters were walked, the bases were loaded with no outs for Kuzmicki. As the old saying goes, "big-time players make big-time plays." It can safely be said that Kuzmicki is a big-time player.
With the count at 2-0, Kuzmicki blasted a hard ground ball into the outfield. Abram Jerkins and Jackson Beach immediately sprinted around the bases and found their way home. Bronson held up Harrison Beach at second base, forcing Kuzmicki to remain at first. However, the damage had been done. The Eagles were off and running.
The Eagles are heating up! Jack Kuzmicki knocked a hard ground ball into left field for a 2-RBI single. The Eagles have extended their lead to 4-0. pic.twitter.com/WAFdPJvsYj

— Jack Meyer (@jackmeyerespn) April 14, 2022
Harrison Beach ended up scoring on a sacrifice fly from Freeman later in the inning. In the following at-bat, Ruth hit a line drive into left field that brought Kuzmicki home. With Ruth on first base and Oak Hall holding on to a 6-0 lead, the ensuing at-bat caused a bit of a commotion.
Early on in Emory Ezzell's plate appearance, Ruth stole second base. Soon after, he sprinted over to third in an attempt to steal yet another base. As he stepped onto the bag, Bronson made a wild throw to third that flew over the third baseman's head. Ruth immediately turned the corner and dashed to home plate. With a tight window to make it home safely, Ruth crossed the plate at full speed. Unable to halt his momentum, he crashed into the umpire and both tumbled to the ground.
Midway through the third inning and Oak Hall leads 7-0. One of Oak Hall's runs came on a wild play; Neil Ruth stole third base and made his way home after a wild throw from Bronson. As he crossed home plate, he collided with the umpire. pic.twitter.com/tvKtzma8Cn

— Jack Meyer (@jackmeyerespn) April 14, 2022
"I saw the ball go by the third baseman, so I turned around and started hauling a** towards home," Ruth said. "I looked back, and I saw the third baseman had got the ball. But when I looked up, I couldn't stop myself, and the umpire was right in front of me. I tried to move out of the way a little bit, but it was too late, and I just ran into him."
While Ruth took some time to stand back up, he immediately returned to the field in the bottom of the third inning. By then, the Eagles had jumped out to a 7-1 lead.
Oak Hall tacked on two more runs to their lead in the fourth inning. Jackson Beach and Harrison Beach both scored on an error from Bronson's outfield. Kuzmicki hit a pop fly into center field that the defense failed to bring in. However, while the team had played well all game, Oak Hall's offense took absolute control in the fifth inning.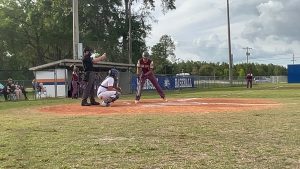 A Collision Course On The Bases
The inning started off with another close call for Ruth on the bases. After Freeman was walked and Ruth hit a single deep into the infield, Oak Hall had runners on first and third base. Freeman made it home on an error from Bronson's second baseman, while Ruth stole second base a few pitches later. Bronson's pitcher then threw a wild pitch that allowed Ruth to advance to third. Seeing an opening, Ruth continued running, hoping to steal home a second time.
This time, however, Ruth did not run into the umpire. Instead, Bronson's catcher blocked his path with the ball in hand. Ruth attempted to squeeze around him, but the catcher reached out to tag Ruth. As a result, both players collided, with the catcher's helmet flying off on impact. Since Ruth had not touched home plate before being tagged, he was called out on the play.
Oh boy. Another tricky situation for Neil Ruth at the plate today. In an attempt to steal home on a passed ball, Ruth and Bronson's catcher got into a head-on collision. Ruth was called out on the play. Eagles lead 10-1 early on in the top of the fifth inning. pic.twitter.com/GvI7eWqPAc

— Jack Meyer (@jackmeyerespn) April 14, 2022
Eagles Head Coach Kevin Maris praised both Ruth and Bronson's catcher, Carrson Whippey, for their respective efforts on the play.
"He ran the bases the way he was supposed to… Neil is a fast guy, and he has a hard time slowing down," Maris said. "He was trying to avoid the tag with his arm as he tried to reach [home] and lean, and he just happened to clip the top of [the catcher's] helmet… That wasn't anything malicious by any means, but it was a heads-up play on Ruth's part. He was trying to score from second, and it made Carson make a phenomenal play."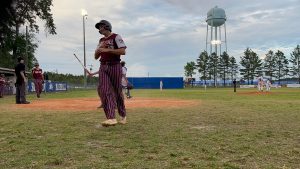 Adding More Fuel To The Fire On Offense To Finish It Off
After Ruth's tag out at home, Oak Hall had a fire lit under them at the plate. The team's next ten at-bats resulted in a runner making it on base. Nine of these runners would end up scoring. However, as Oak Hall heated up, Bronson went cold. The team gave up two errors in the span of three at-bats, one of which allowed a run to score. Bronson finished with seven errors on the day; in comparison, Oak Hall only committed one error.
The Scoring Breakdown For Oak Hall's Fifth Inning
Bear Wooley scored on a wild pitch. One at-bat later, Brody Beaupre made it home via a line drive from Jackson Beach. With Harrison Beach at the plate, Andrew McManis scored on a wild pitch from Bronson.
Harrison Beach then proceeded to blast a deep ball into center field that allowed his brother to score. Bronson walked Kuzmicki in the following at-bat, leaving Szlachetka with two men on base as he stepped to the plate. He proceeded to knock a line drive into center field that brought both Harrison Beach and Kuzmicki home.
The Eagles have hopped out to another double digit lead! Oak Hall has capitalized on multiple defensive errors from Bronson and a plethora of hits in the inning. Following a 2-RBI single from Ethan Szlachetka, they currently have a 16-1 lead with one out in the fifth inning. pic.twitter.com/Vn11epr84R

— Jack Meyer (@jackmeyerespn) April 14, 2022
Szlachetka made it home himself after Ruth belted a single into center field. To cap off their explosive inning, Ruth and Freeman (the latter was hit by a pitch earlier in the inning) both scored on an error from Bronson's pitcher. Oak Hall soon picked up two outs in their following at-bats.
With such a massive deficit, Bronson had quite the task in order to keep the game alive. They would have needed to score at least nine runs to avoid the game finishing off with a mercy rule. Needless to say, that did not happen. Ezzell took the mound for Oak Hall in the final inning and quickly took care of business. With a groundout and back-to-back strikeouts, Oak Hall clinched the mercy rule victory after five action-packed innings.
Looking For Revenge Against A Familiar Foe Next Week
Following Thursday's victory, Oak Hall has now won four games in a row. However, in their next matchup, they will face one of their tougher opponents this season: the Union County Fightin' Tigers. The Eagles and Tigers met earlier in the season at Union County High School. In the team's closest game of the season so far, Oak Hall narrowly lost by a score of 8-7 in extra innings.
This time, however, the game will be played at Roger Maris Field. The game is currently set for Monday, April 18, at 4:15 PM. With the Eagles hosting this time around, Maris hopes the team can take what they have learned over the last few weeks and come back out stronger than ever.
"If we take care of business on our end, someone else is going to have to play their top game to beat us," Maris said. "As long as we take care of ourselves, I don't really care what the other team has at the end of the day."