To celebrate International Education Week, WRUF is publishing profiles of UF student-athletes all week.
What makes someone a good leader in basketball? Their ability to rally their teammates? Having a high basketball IQ? Leading by example on and off the court? All of these traits seem important in such a role, and Florida Gators senior forward Faith Dut has them all.
Born to South Sudanese immigrants in Vancouver, Dut started playing basketball only in middle school, just after she hit a massive growth spurt. She swiftly picked up on all the ins-and-outs of the game, eventually earning a spot on the U17 and U19 Canadian National teams. In 2019, Dut moved all the way down to Florida to play for the Gators women's basketball team.
https://twitter.com/faithdut7/status/1062854423209263104
Transitioning from Vancouver to Gainesville proved to be no easy task. Nevertheless, Dut persevered both on and off the court, establishing herself as a starter, and eventually a leader, for the Gators. As she prepares for her fourth season at UF, Dut is ready to make some noise on the court (both figurately and literally) and lead her squad to another successful year.
Discovering Her Passion For The Game
Dut grew up in Vancouver, British Columbia, surrounded by a variety of cultures. Her parents held on to their South Sudanese heritage and told her stories from their life there. Dut noted that she found a "community" of people in Vancouver that she stuck with growing up. She even mentioned that she has a lot of "cousins" back home that she is not related to by blood, but through mutual experiences.
"Growing up in BC, we have a lot of different cultures that come over there," Dut said. "Vancouver, especially, is more of an artsy type of city. We have a whole lot of musical theatre type of things and festivals, a lot of big city stuff."
Dut's environment played a sizable role in shaping her childhood. She grew up dancing, singing and acting, but she did not play any sports despite her mother having previously played basketball. Dut's parents wanted her to discover her own passions for herself.
In middle school, Dut had a major growth spurt, putting her over 6 feet tall. She quipped she had become "a little too tall for ballet" at that point. Approached by one of her middle school basketball coaches, she decided to join the school team.
She quickly established herself as a standout player early in her career. Along the way, she found a love for the sport "that [she] didn't know [she] had" before.
Dut then attended Semiahmoo Secondary School, where she led her team to a AAA Senior Girls Basketball Provincial title against the Walnut Grove… Gators. With 23 points (including 19 in the second half) and 13 rebounds in the championship game, Dut led Semiahmoo to a 17-point comeback and their first AAA championship since 1953.
https://twitter.com/GatorsWBK/status/1090293494512603137?s=20&t=6C8dEPNHnheot4SuJ1TDpQ
Representing Her Country On The Court
As Dut continued to wreak havoc on the court, scouts across Canada noticed her. She secured a spot on the U17 Canadian National team, competing in the 2018 FIBA U17 World Cup and the 2019 British Columbia AAA Championship. She was named a Second-Team All-Star in the latter competition.
Dut also played for the U19 Canadian National team in the FIBA U19 World Cup. She believes the time she spent playing for her country marked her transition into a true professional basketball player.
"The experience was like no other," Dut said. "It was kind of nerve-racking, but even just playing basketball, I definitely think I was introduced to a different style of play… It was definitely an experience I'll cherish for a long time."
Dut Adjusts to Gainesville
Upon graduating from high school, Dut traveled more than 3,000 miles to Gainesville to join the Florida Gators. Interestingly, one of the bigger "culture shocks" Dut faced was transitioning from living in a big city to a relatively small town.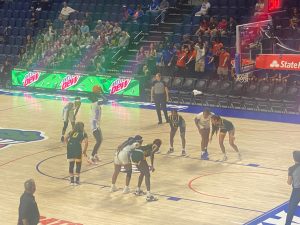 "I like Gainesville, [but] it's different from where I came from," Dut said. "But it's nice, I like how quiet it can get and how many small businesses there are."
Dut also appreciates that there are more people down here who "look like [her]." Despite having her family and friends back home in Canada, she sometimes felt isolated due to her South Sudanese roots. In the U.S., Dut feels like she can connect with more people that have similar backgrounds to her own.
"Coming to America, it's a lot different, but I also just appreciate the fact that there are people that I can look around and relate to," Dut said.
While Dut does her best to hold on to her heritage in Gainesville, she admits doing so can be a struggle. For example, she mentioned her first language was originally her family's travel tongue, Dinka. Going to school and "catching up" with Canadian culture allowed her to learn English, but also caused her to forget her native tongue.
She expressed regret at forgetting how to speak Dinka. Nevertheless, she still has plenty of connections to South Sudan to this day.
"I think a big part of [maintaining your culture] is keeping in contact with people who raised you," Dut said. "My parents, my friends, people who know where we come from. I still keep in contact with a lot of people from back home [in Canada] and back home in Africa."
Dut Thrives With The Gators
In addition to transitioning to her new environment in Gainesville, Dut also had to learn to keep up with a new style of play on the court. She took some time to adapt to Gators basketball.
Dut noted Head Coach Kelly Finley implements a very aggressive and fast-paced system to manage the diversity of the team.
"American basketball has a lot of different styles," Dut said. "Maryland kids play different than Texas kids, and New York kids play different than Arizona kids. There's a lot of different styles of play… There's a lot more creativity and culture around basketball down here."
Good ball movement @GatorsWBK

Emanuely de Oliveira
Kristina Moore
Faith Dut ( @faithdut7 )#MarchMadness pic.twitter.com/MFeiimNTkm

— Antonio Garcia (@Iruk_WomenSport) March 19, 2022
Despite such major differences, Dut needed little time to settle in with UF. She worked her way into the Gators' rotation in her freshman year, averaging 2.1 points and 1.4 rebounds in 27 appearances at 8.6 minutes per game that year.
The following season, she earned a spot in the starting lineup. In her 24 appearances (including 19 starts) in her sophomore year, Dut averaged 5.8 points, 3.2 rebounds and 0.5 steals per game. She also tallied a career-high 18.9 minutes per game.
Dut maintained her role as a starter in her junior year, averaging 3.4 points, 1.5 rebounds and 0.4 steals per game in 30 appearances and 20 starts.
Embracing Her Role As A Leader
However, Dut's most important contributions to the team last season did not show up in the box score. Instead, the veteran served as a leader for her squad, a role she will continue to fulfill this upcoming season.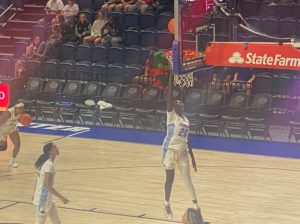 "I do a lot of stuff on the court and for my team that isn't on the stat sheet," Dut said. "I feel like I'm the most vocal on the team… And I know how the game is supposed to be played. I see things now before some of my other teammates do. My basketball IQ has heightened and [Coach Finley] has poured a lot into me to make me see things that I can help with."
Throughout her career with the Gators, Dut has earned the respect of her coaches and teammates alike. Freshman forward Frieda Bühner praised Dut's leadership abilities and her knowledge of the game.
"Faith is just super nice," Bühner said. "I feel like I can always ask her questions… She knows the system really well."
Dut has come a long way since she made the trek to Gainesville in 2019. From adapting to a new environment after spending her whole life in Vancouver to keeping up with a new style of basketball with the Gators, she has dealt with a lot both on and off the court.
As she prepares for her final collegiate season, Dut has remained concentrated on the task at hand. She has always kept an eye toward the future, but for now, she wants to focus on one thing: helping her team win.
"I'm just taking it one year at a time," Dut said. "I'm just focusing on having a good year this year and then going from there."
In Florida's season opener on Nov. 7 against Florida A&M, Dut finished with 3 points, 4 rebounds and 2 blocks in 19 minutes en route to an 83-55 Gators victory.