After school, every Tuesday and Thursday, 20 or more students at Suwannee Middle School gather in Tammy Neil's computer science, broadcasting and graphic design classroom for esports.
Esports Students with Neil
Some students are there to compete. On Tuesdays 15 players across three teams, practice and strategize for their Thursday games in "Rocket League." Rocket League is a three v. three game where players control small race cars and try to knock a large soccer ball into their enemy's net. Other students are there to play Minecraft and another group is there to broadcast it to the world. 
Neil also happens to be the president of Florida's newest scholastic esports league: the Sunshine State Esports League, or SSEL. Neil said she never intended on becoming the state's scholastic esports pioneer. In 2019,  she had students who indicated an interest in competing in esports, and as the person in control of the computers that could run the games, she was the obvious choice. She also had some connections. 
"I had a close friend and colleague who worked in New Jersey and was part of the Garden State Esports League (New Jersey's scholastic league)," she said. "We were able to connect and compete in their league remotely, and we did pretty well."
Despite the positive results, some of her students were still unsatisfied.
"I had a student come to me after the end of the season and say, 'I have some suggestions about the league if you will hear them,'" she said.
The first and most important was to play against schools and kids that they knew. To her students, playing people in New Jersey felt almost the same as playing random people on the internet. Neil said she took that as a challenge and has not looked back. 
Outside of Suwannee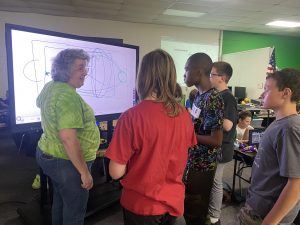 Esports at the professional and semi-professional level has been on the rise for the past decade or so. In 2019, the "League of Legends" World Championship match had a total of 100 million viewers, with a peak of 44 million concurrent viewers. It also boasted a prize pool of over $2.2 million, which was also supplemented by in-game cosmetic sales.
Scholastic esports, on the other hand, has only been developing at a national level since 2018 when the North American Esports Federation, or NASEF, was created. NASEF represented a commitment to the development of esports in schools across the U.S. and Canada. According to Clair LaBeaux, NASEF's chief marketing Officer, NASEF is partnering with over 2600 clubs across US and Canada and over 400 clubs internationally. NASEF also supports state-level organizations as well, including the SSEL in Florida. 
The SSEL is not Florida's first league. Before it, the Florida Scholastic Esports League was the NASEF state affiliate. After its leaders left student-facing education jobs, however, the league stopped operating, disconnecting Florida's county-level leagues.
Some counties, like Broward, have been able to maintain their own leagues. In some places, only individual schools have teams and play in national-sized leagues. In Marion county, Meadowbrook Academy runs its own teams and Q.I Roberts Jr./Sr. High school in Putnam has integrated esports into its curriculum.
How has it changed?
Q.I. Roberts' computer science teacher and esports Coach Chris Cantrell made it a priority to introduce esports to his students as soon as he could. Cantrell is a former esports pro, playing "NBA 2k" for the Orlando Magic and Los Angeles Lakers' esports teams in 2018 and 2019, respectively. 
Cantrell's entry into scholastic esports was a little different than Neal's. Cantrell said he knew he wanted to start an esports program at the school but did not know where to begin. 
"I just spent months doing research and going to conventions where speakers were talking about high school esports," Cantrell said. 
Cantrell got the go-ahead from his administration and was able to secure 10 fully equipped gaming PCs for his computer lab. In the fall of 2021, he started the program as an after-school club, where once a week he and the students got together to play games. 
"The first step was just getting kids into the club," he said. "Getting kids who were dedicated and passionate about it." 
By the following spring, he had fielded a team in "Halo Infinite" to compete in the High School Esports League. The HSEL runs a national league meaning Cantrell's fledgling team was competing against hundreds of others across the country. By the end of the league, it had secured top eight in playoffs and reached 6th during the regular season.
After, Cantrell said he pitched an esports class: both to better help him connect with his esports players but to also help expand his students' understanding of esports and how it's more than just competitive video gaming. 
"Any sort of job in other fields can relate to esports," he said. "For example, there's managers, there's coaches, there's people that help you with your physical fitness, there's all kinds of different jobs that go into esports that go into traditional sports as well."
Cantrell is not the only esports coach in Florida who is expanding the definition of esports for his students.
A New Definition
At Suwannee, Neil's broadcasting students learn every day how to produce and run a live broadcast. They create graphics using lessons on graphic design, compile lists and pictures of players for social media and their website and operate some intricate technology like a TriCaster.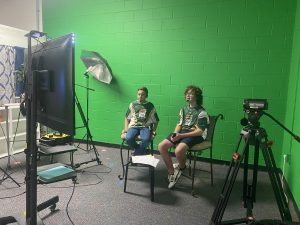 Additionally, the Minecraft students, while they are not competing, are playing alongside people from all over the world. Following the end of the Rocket League season, the Minecraft students will take center stage for Neil and her second-in-command, Suwannee Middle School language arts teacher Heather Dean. They will participate in a program called MENAcraft. Through it, Suwannee students will connect with students at schools in the Middle East to learn about their culture and work together to build culturally relevant creations within the game.
A Look to the Future 
Ultimately, the goal for Neil, Cantrell and other scholastic esports leaders in the state, is to help these students develop unique skills to help them move to college and beyond.
Adam Antor is the director of esports at Southern Florida College and agreed with the approach and that colleges should employ the same tactic when looking for players for their programs.
"When you look at esports as just a recruitment tool, you will only impact 30 or 40 students," he said. "We are impacting more students when we expand esports education past just competition."
For now, Neil's focus is on building out the SSEL and integrating high schools into the league more directly. The league only supports Rocket League play so far. Any schools interested in playing other games must go through NASEF's portal and find a national league. 
"I get it, I get why kids love it," Neil said of the popular party battler Super Smash Bros, which is not supported by the SSEL. "But I have to look at the bigger picture and what is going to be accessible to the majority of the state."
Expanding Interest
Neil's not alone though, she has recruited one of her former students from her 30 years of teaching, Travis Bass. Bass is a math teacher at Suwannee High School. He has been attending the esports club practices and game days. He observes and learns from Neil how to run a program of his own. 
The endeavor from the outside looks daunting, organizing a league of 20+ schools all by herself, and it is. But Neil said she knows that is where she is supposed to be. She said she wants to help students find their passion and support them in doing so.
"I can't put why into words," she said. "But I can see why on the student's faces."