By: Liana Handler and Trach Kercsmar
The Santa Fe Raiders suffered a heartbreaking 8-0 loss on Senior Night against the Buchholz Bobcats. While Santa Fe challenged Buchholz in the first half, they quickly fell to the intensity and speed of the Bobcats' offense.
An Early Press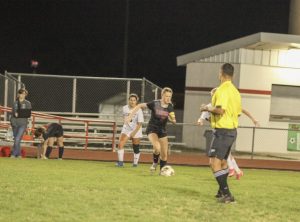 From the first whistle, Buchholz pressed early with clean passes and crisp first touches.
The Bobcats navigated around the Santa Fe midfield and defense, creating clear shots on goal. A number of shots sailed over the crossbar, allowing Santa Fe to regain the ball.
While the Raiders were able to drive the ball to midfield, they struggled to push past the center defenders of Buchholz. Santa Fe's passes often missed their targets, allowing Buchholz to re-organize.
A Game of Possession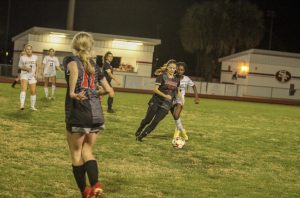 Buchholz's dominant ball possession kept both teams firmly in Santa Fe's half.
The Bobcats utilized the space on the sides of the field, giving Kelisha Andre space to sprint toward the goal. Even when breakaways didn't result in a goal, Buchholz would drive the ball horizontally. Zoe Torres, a constant force in the center of the field, positioned herself to collect the balls and put them in the back of the net.
In moments where Santa Fe managed to push past the defense, their forwards couldn't finish it off. Often, breakaways for the Raiders' forward Haidyn Smith resulted in the Buchholz defenders regaining the ball.
Multiple offside calls on Santa Fe forwards only added to the team's frustration.
Senior Night At Santa Fe
While the game seemed to have clearly frustrated Santa Fe's players, it was quickly put aside for Senior Night. The celebration was full of smiles and laughter, warming the freezing night.
Seniors Kinsy Ruth and Erin Coleman received flowers and framed jerseys as a gift for their contributions to the team.
Ruth, the team captain, spoke fondly about her team, discussing the ups and downs of their season. Her hope for the next captain is that the next team captain leads the team as well as they possibly can:
"There's going to be times where it's going to be tough, and you're just going to have to be calm and take the team as far as you can."
Coleman talked about the importance of the heart in a game driven by analytics. In discussing what she wants the team to remember after she graduates, she said, "Skills [are] not, necessarily, as important as heart and wanting to do to it. It makes a lot of difference."