The Arkansas Razorbacks defeated the Kentucky Wildcats 88-73 in Rupp Arena Tuesday night.
The Razorbacks not only secured their fifth straight SEC win, but also their third straight win against the Wildcats.
It was a memorable night for Arkansas' head coach Eric Musselman, as he got his 200th career win and 90th win as a Razorback.
https://twitter.com/RazorbackMBB/status/1623176598957563904
Tight First Half
It was a nip-and-tuck first 20 minutes of action.
Kentucky's Chris Livingston put the Wildcats on the board first, splitting a pair of free throws. Arkansas' Ricky Council IV responded immediately, knocking one down from long range; he'd go on to have a great night.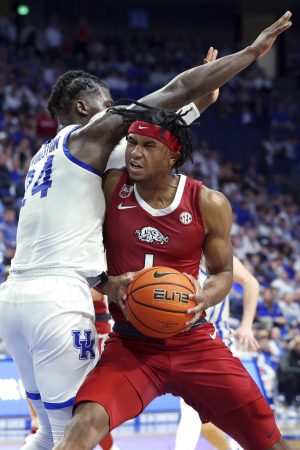 The first 10 minutes of the half was spent by both teams in a one-possession game. The Wildcats led 19-18 halfway through the first.
Arkansas' short-lived 32-26 lead was the largest point differential in the half. Kentucky was able to prevent a substantial run and keep it close, answering from deep and under the rim to bring it to a one-point game yet again.
With Arkansas leading 41-38, Kentucky's Daimion Collins hit a jumper at the buzzer for the home team. This cut the Wildcats' deficit to just one going in to intermission.
https://twitter.com/KentuckyMBB/status/1623154719031021568
Razorbacks Run
The second half began with three straight field goals from the Razorbacks to extend their lead to 47-40.
Kentucky, on the other hand, struggled to put points on the board coming out of the locker room. They had just one made 3-pointer in over four minutes of second-half play.
Arkansas took their first double-digit lead (68-58) with just over eight minutes remaining. From there, they were able to maintain the advantage.
Razorbacks forward Makhel Mitchell had five blocks in the 20-minute span to deny the Wildcats of scoring opportunities. Three of his blocks came within a one-minute span.
https://twitter.com/RazorbackMBB/status/1623166925957103616
Arkansas returned to Fayetteville with a win on their backs and improved to 17-7 with the win.
Kentucky falls to 16-8 with the loss.
Key Performances
Arkansas freshman Anthony Black and junior Ricky Council IV combined for 39 points on the night.
Black put up 19 points to go along with 4 rebounds, 5 assists and 5 steals. Council IV finished with 20 points, 3 rebounds and 4 assists.
https://twitter.com/RazorbackMBB/status/1623159606858874880
Kentucky freshman Cason Wallace's 24 points wasn't enough on the other side.
What's Next
The Razorbacks will look for their sixth straight SEC win Saturday when they face Mississippi State at home, while Kentucky will look to bounce back against Georgia Saturday.